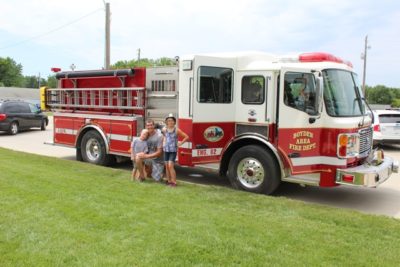 The Boyden Fire Department displayed its most recent purchase, a 2006 pumper truck, at a fundraising dinner Sunday, June 30, at the Demco Center in Boyden. The vehicle was purchased from the Valhalla, New York fire department. The vehicle will be used as a rescue pumper. 
The truck arrived in Boyden at the end of April but the department did not put it into service until the end of May. Some decals needed to be put on and volunteers also needed to train with it.
Department members gave fire hats to the kids and allowed them to look inside the truck. A few kids stopped to be in the picture with Chris Starkenburg, Boyden Fire Chief (above).