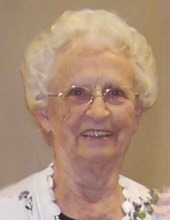 93
Sheldon, Iowa
September 13, 2020
Wilmyna Jansma, 93, of Sheldon, Iowa, passed away Sunday, Sept. 13, 2020, at Fieldcrest Assisted Living Community, Sheldon.
Funeral service was Friday, Sept. 18, at Hull Protestant Reformed Church, Hull, Iowa, with interment in Hope Cemetery, Hull.
Wilmyna Bleyenberg was born March 28, 1927, near Ireton, Iowa, daughter of Ben and Alberta (Van Maanen) Bleyenberg. She grew up on farms in the Ireton and Sioux Center, Iowa, area where she attended country school, Sioux Center Christian School and Western Christian High School in Hull. Following graduation, she enrolled in summer school at Westmar College in LeMars, Iowa, and then taught at Sioux Center Christian School and state-line country school north of Rock Rapids, Iowa.
On Aug. 2, 1949, she married Tunis "Tony" Jansma. They lived on farms near Hull. After their retirement from farming in 1990, they moved into Hull. Her husband passed away Aug. 15, 2011. In January 2015, she moved to Aspen Heights Assisted Living in Hull, and then became a resident of Fieldcrest in September 2018.
Survivors include four children, Diane (Dave) Bonestroo and Marlys (Cliff) Koele, all of Hull; Rachel (Dave) Griess of Loveland, Colorado, and Terry (Dee) Jansma of Doon; 14 grandchildren; 23 great-grandchildren; two sisters, Bernice (Pete) Rynders of Grand Rapids, Michigan, and Lori (John) Hoksbergen of Hull; a brother Alvin (Betty) Bleyenberg of Sioux Center; a brother-in-law, Bill (Harriet) Jansma, of Ellsworth, Minnesota; a sister-in-law, Bernice (Noralf) Barstad, of Brandon, South Dakota; as well as many nieces and nephews.
In addition to her parents and husband, she was preceded in death by a great-granddaughter; a still-born sister; a sister, Artie (Elmer) Bonnema; a brother-in-law, John Haverhals; and three of her husband's siblings, Gert (Jim) De Boer; Jane (Pete) De Boer and Bart Jansma.