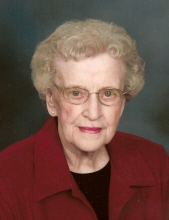 Wilhelmina Kraayenbrink
92
Hull, Iowa
February 11, 2019
Wilhelmina Henrietta Kraayenbrink, 92, of Hull, Iowa, passed away Monday, Feb. 11, 2019, at Pleasant Acres Care Center, Hull.
Memorial services were Tuesday, Feb. 19, at First Reformed Church, Hull, with interment in Hope Cemetery, Hull.
Wilhelmina "Wilmina" "Mina" Vande Kamp was born July 4, 1926, near Sioux Center, Iowa, the daughter of Gerrit and Hattie (Gerritsen) Vande Kamp. She grew up near Sioux Center, and after completing eighth grade, she worked in area homes as a housekeeper.
On Jan. 24, 1949, she married Asa James Kraayenbrink. They farmed in the Hull area until December 1991, when they moved into Hull. She was a cook's assistant at Pleasant Acres 15 years. Her husband passed away March 5, 1998.
In December 2000, she moved into Homestead Cooperative in Hull. In June 2010, she transferred to Pleasant Acres in Hull.
Survivors include a daughter, Doris Scholten of Sheldon, Iowa; a son-in-law, John Unangst of Colleyville, Texas; five sisters, Alvina Punt and Henrietta Sneller, both of Sioux Center, Gracia (Lloyd) Punt of Pipestone, Minnesota, Helen Mulder of Munster, Indiana, and Gert (Don) Vos of Ripon, California; a sister-in-law, Delores (Leonard) Leenderts of Hills, Minnesota; and a brother-in-law, Henrich (Marilyn) Kraayenbrink of Sioux Center.
In addition to her husband and parents, she was preceded in death by a daughter, Hillene Unangst; a son-in-law, Harold Scholten; two brothers, Gerrit and Gerald Vande Kamp; a sister, Margaret (John) Meendering (Syne) Sybesma; a sister-in-law, Alyda (Donald) Wassenaar; and three additional brothers-in-law, Harold Sneller, Donald Punt and Ed Mulder.