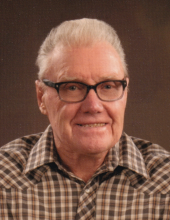 93
Hull, Iowa
January 2, 2020
Verne Huisman, 93, of Hull, Iowa, passed away Saturday, Jan. 2, 2021, at Pleasant Acres Care Center in Hull.
Private family graveside services were Thursday, Jan. 7, at Hope Cemetery in Hull.
Verne William was born Oct. 17, 1927, in Orange City, Iowa, son of Andrew and Rena (Kroeze) Huisman. He grew up and attended country school northwest of Orange City.
On Aug. 15, 1948, he married Fayola Mouw. He treasured the fact they were the fourth generation to make their home on the Huisman family farm. His wife passed away Sept. 4, 2014.
He had served on First Christian Reformed Church consistory, Sioux Center Mutual Telephone board of directors and as Holland Township trustee.
Survivors include three children, Valerie Van Schepen of Hull, Gene Huisman of Rock Valley, Iowa, and Gail (Bryan) De Jong of Waukee, Iowa; a daughter-in-law, Ella Kaye Huisman Vander Schaaf of Orange City; 11 grandchildren; 37 great-grandchildren; two great-great-grandchildren; three sisters, Esther (Rodney) De Haan of Florida; Ruth Boone of Sioux Center, Iowa, and Eleanor Van Grouw of Orange City; and a brother, Alan Huisman of New Hampshire.
In addition to his parents and wife, he was preceded in death by two sons, Jan Huisman and Wesley Huisman; a son-in-law, Bruce Van Schepen; a sister, Helena (Almon) Brandt; and two brothers-in-law, Vernon Boone and Eugene Van Grouw.