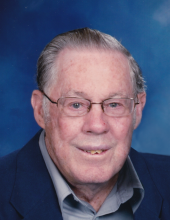 85
Hull, Iowa
July 12, 2021
P. Stanley Westra, 85, of Hull, Iowa, passed away Monday, July 12, 2021, at his home.
Funeral service was Friday, July 16, at First Reformed Church, Hull, with interment in Hope Cemetery, Hull.
Peter Stanley "Stan" was born March 28, 1936, in Hull to Sam and Gertrude (Post) Westra. He grew up near Inwood, Iowa, until age 9 when his family moved to a farm north of Carmel, Iowa, where he attended country school through eighth grade.
On Sept. 29, 1961, he married JoAnn Van Wyhe. They briefly made their home in Hull before moving onto his family's farm. They moved back to Hull in December 2000. In addition to being a farmer, he helped construct steel bins for Kooima Manufacturing in Rock Valley, Iowa, assisted Chuck Steinstra with his carpentry work, and worked part-time at Sioux Center Vet Clinic 32 years.
Survivors include his wife; two daughters, Brenda (Dale) Kraayenbrink of Sioux Center, Iowa, and Linda (Steve) Janecek, of Sioux Falls, South Dakota; eight grandchildren; 13 great-grandchildren; two brothers, Gary (Sandy) Westra, and Wes (Brenda) Westra, all of Hull; three sisters-in-law, Beth Westra of Fulda, Minnesota, Joey Westra of Hull and Arlene Van Wyhe of Rock Rapids, Iowa, and a brother-in-law, Ray (Carol) Van Wyhe of Luverne, Minnesota.
In addition to his parents, he was preceded in death by his siblings, Arlene Westra, Dwayne Westra, Deana (Henry) Fluit and Don Westra; a sister-in-law, Hilene Westra; JoAnn's two brothers, Henry (Clazina) Van Wyhe and Clarence Van Wyhe; and her sister-in-law, Carol Van Wyhe.