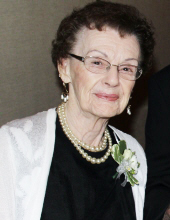 92
Sioux Falls, South Dakota
October 13, 2020
Muriel Kooiker, 92, of Sioux Falls, South Dakota, passed away Tuesday, Oct. 13, 2020, at Ava's House in Sioux Falls.
Private family services were Friday, Oct. 16, at Vander Ploeg Funeral Home, Sheldon, with interment in Sheridan Township Cemetery, Boyden, Iowa.
Muriel June Van Rennes was born June 8, 1928, in Sioux Center, Iowa, daughter of John and Coba (Van't Hul) Van Rennes. She grew up in Hull, Iowa, Trent, South Dakota, and near Boyden. She moved to Sheldon, Iowa, and began working in the Sheldon Telephone office.
On Nov. 20, 1947, she married Vernon Kooiker. They owned and Speedway Turkey Ranch. When the couple retired in 2003, they moved to Sioux Falls. Her husband passed away in 2014..
Survivors include her children, Bradley, Douglas and Susan (Bob) Nelimark; one grandson; siblings, Gladys Moret of Sheldon, Elaine (Gary) Green of Milford Iowa, Sheryl Vande Garde of Colorado Springs Colorado, Duane (Vicki) Vande Garde of Sibley, Iowa, and a host of other relatives and friends.
Muriel was preceded in death by her husband; one granddaughter; son-in-law, Rodney Strozdas, and daughters-in-law, Carolyn Kooiker and Linda Kooiker.