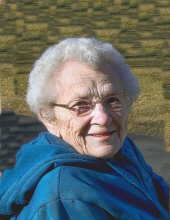 99
Boyden, Iowa
November 12, 2020
Mildred "Millie" J. Zenk, 99, of Boyden, Iowa, passed away Thursday, Nov. 12, 2020, at Prairie View Home, Sanborn, Iowa.
Private family graveside service was at St. Paul Lutheran Cemetery, Hull, Iowa. 
Mildred Julia Dickmann was born Nov. 7, 1921, near Hull to Charles and Anna (Fick) Dickmann. She attended country school and graduated from George High School.
On July 10, 1945, she married William Zenk. They farmed near Hull 36 years, retiring in November 1981 and moved to Boyden. Her husband passed away July 10, 2016. She moved to the Christian Retirement Home in Sheldon, Iowa, then to Fieldcrest in Sheldon. In the summer of 2020, she moved to Prairie View Nursing Home in Sanborn.
Survivors include her son, Leslie (Connie) Zenk of Vinton; daughter, Gayle Ten Haken of Boyden; four grandchildren; seven great-grandchildren; one sister-in-law, Shirley Zenk of Denison, Iowa, as well as many dear nieces, nephews and friends.
She was preceded in death by her husband, her parents and four brothers, Alfred, Theodore, Robert and Clarence Dickmann.