Marvin Boon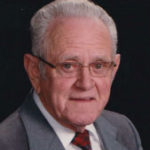 85
Hull, Iowa
November 24, 2019
Marvin Boon, 85, of Hull, Iowa, passed away Sunday, Nov. 24, 2019, at Prairie Ridge Care Center in Orange City, Iowa.
Funeral service was Saturday, Nov. 30, at Hope Christian Reformed Church, Hull, with interment in Hope Cemetery, Hull. 
Marvin was born Aug. 20, 1934, in Rock Valley, Iowa, the son of Marinus and Hendrika (Van Bemmel) Boon. He grew up near Rock Valley and attended Rock Valley Christian School. He enlisted in the U.S. Army and served from 1956-1958. 
On July 31, 1959, he married Eileen Smit. They lived near Rock Valley until moving to Artesia, California, in 1969 where he began his own gardening business. In 1973, they relocated to Wausau, Wisconsin, where he was a truck driver. In 1976, he began working for Paper Specialty as a truck driver. When the company was sold to Central Wisconsin Paper, he was made warehouse supervisor. They retired to Hull in December 1999.
Survivors include his wife; three daughters, Debra (Dr. Noel) Davis of San Antonio, Texas, Edna (Terry) Lutzow of Estherville, Iowa, and Marcia Green of Mahomet, Illinois; seven grandchildren; 13 great-grandchildren; a brother, John Boon of Rock Valley, and two sisters, Hilda Vink of Doon and Joan (Virg) Horstman, of Hull.
In addition to his parents and his wife's parents, Dowie and Catharina Smit, he was preceded in death by his siblings and in-laws, Martin Boon, Mary (Herm) Steensma, Andy (Jo) Boon, Henrietta (Gerrit) Nibbelink, Ben (Hermina) Boon, Gertie (Gerald) Van Engen, Grace (Marinus) Van Hofwegen, Martha (Bernie) De Jager, Elmer (Fanny Mae) Boon, Bev Boon and Dale Vink.