Louis Hubner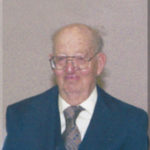 96
Pipestone, Minnesota
August 6, 2019
Louis Hubner, 96, of Pipestone, Minnesota, died Tuesday, Aug. 6, 2019, at his home.
Services were Saturday, Aug. 10, at Christ the King Free Lutheran Church, Pipestone.
Louis Herman Hubner was born April 14, 1923, in Pipestone County, Minnesota, to Herman and Emma (Mettenbrink) Hubner. He attended country school through eighth grade and and graduated from Pipestone High School in 1942. He lived and worked on the family farm. 
On March 11, 1955, he married Barbara  Langdon. They farmed and raised livestock in the Pipestone area.
Survivors include his wife; six children, Robert (Audrey) Hubner of Pipestone, Helen (Scott) Ketelsen of Hull, Iowa, Mary (Ron) Ruud of Colman, South Dakota, Diana Meyer of Wichita, Kansas, James (Renee) Hubner of Manhattan, Kansas, and Bernard Hubner of Holland, Minnesota; 19 grandchildren; 23 great-grandchildren; one sister, Leone Slyh of Lansdale, Pennsylvania; and other friends and family. 
He was preceded in death by a granddaughter, his parents and one brother, Loren Hubner.