Lee R. Moret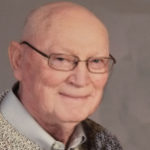 85
Boyden, Iowa
November 29, 2019
Lee Roland Moret, 85, of Boyden, Iowa, passed away Friday, Nov. 29, 2019, at his home. 
Memorial service will be at 1 p.m. Wednesday, Dec. 4, at United Presbyterian Church, Boyden, with interment in Sheridan Township Cemetery, Boyden, at a later date.
Lee Roland Moret was born Nov. 17, 1934, in Boyden, son of Peter and Jacoba "Coba" (Kamminga) Moret. He grew up in Boyden, graduated from Boyden High School in 1953 and from Iowa State University in 1957, and received a commission in the U.S. Army Reserves. 
On March 23, 1958, he married JoAnn Clark. They lived near Boyden until retiring in 1996 and moving into Boyden. 
He served on the Boyden-Hull School Board from 1966-1977, the AEA-4 board six years and was a member of the Boyden Kiwanis club. 
Survivors include his wife; his children, Karen (Randy) Bentsen of Atlantic, Iowa, Clark (Debra) Moret of Boyden, Beth (Dwight) Sipma of Sheldon, Iowa, and Peter (Kim) Moret of Eldersburg, Maryland; 14 grandchildren; 14 great-grandchildren; two brothers-in-law, Lyman (Rae Jean) Clark and Frank Clark, and other relatives.
Lee was preceded in death by his parents.