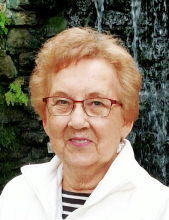 82
Orange City, Iowa
May 28, 2021
Laura Van Wyk Postma, 82, of Orange City, Iowa, passed away Friday, May 28, 2021, at Unity Point Health St. Luke's in Sioux City, Iowa.
Funeral service was Wednesday, June 2, at Calvary Christian Reformed Church, Orange City, with interment in Memorial Cemetery, Le Mars, Iowa.
Laura Anna Meyer was born Jan. 8, 1939, in Boyden, Iowa, daughter of John and Emma (Reyelts) Meyer. She grew up between Boyden and Hull and attended St. John's Lutheran Grade School. She graduated from Hull Public High School.
On June 5, 1959, she married to Gene Van Wyk. They made their home in Le Mars where she worked part-time for an insurance company, a chiropractic office and the Hallmark store. Her husband passed away May 23, 1992.
On April 2, 1994, she married Clarence Postma. They made their home in Orange City.
Survivors include her husband; a daughter, Sherrie Schuck of West Des Moines; two sons, Bryon (Kelly) Van Wyk and Scott (Laura) Van Wyk all of Le Mars; six grandchildren; nine great-grandchildren; two sisters, Carol (Roger) Drenth of Sheldon, Iowa, and Lois Jim Lockhorst of Elk Point, South Dakota; three sisters-in-law, Magdalene Doorenbos of Sioux Center, Iowa, Ileen Meyer of Boyden and Carol Meyer of Hull; a brother-in-law, Harvey Klein of Rock Valley; nieces; nephews; Clarence's children, his grandchildren and great-grandchildren.
She was preceded in eath by her parents; first husband; son-in-law, Dean Schuck; four sisters, Augusta Meyer, Elva (Albert) Mooney, Marion (Ed) Meyer and Pauline Klein, and three brothers, Rudolph Meyer, Marvin Meyer and Wilfred Meyer.