Ladell Kaster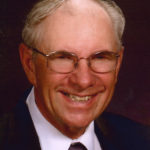 76
Hull, Iowa
November 23, 2019
Ladell G. Kaster, 76, of Hull, Iowa, died Saturday, Nov. 23, 2019, at Avera Heart Hospital in Sioux Falls, South Dakota. 
Funeral services will be at 1 p.m. Wednesday, Nov. 27 at Netherlands Reformed Congregation, Rock Valley, Iowa, with interment in Valley View Cemetery, Rock Valley. 
Ladell Gale Kaster was born June 25, 1943, in Rock Rapids, Iowa, son of Herman and Lillian (Techen) Kaster. He grew up on the family farm north of Hull and graduated from Boyden-Hull High School. Following school, he served in the U.S. Navy as a radioman during the Vietnam War. 
On Oct. 4, 1968, he married Anna Marie Fluit. The couple made their home north of Hull where they farmed and raised their five children.
Survivors include his wife of 51 years; five children; 19 grandchildren; one great-grandson; brother, Harris (Bev) Kaster of George, Iowa, and sister, Dee (William) De Stigter of Carmel, Iowa.
He was preceded in death by his parents; infant son, Harvey; and infant grandson.