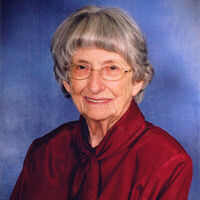 94
Sheldon, Iowa
August 24, 2020
Greta Van Middendorp, 94, of Sheldon, Iowa, died Monday, Aug. 24, 2020, at Sanford Senior Care in Sheldon.
Funeral service was Friday, Aug. 28, at Memorial Funeral Home, Sioux Center, Iowa, with interment in Memory Gardens Cemetery, Sioux Center.
Greta Van Veldhuizen was born Dec. 13, 1925, near Carmel, Iowa, to Henry and Dena (Brinkman) Van Veldhuizen. She attended school in Doon, Iowa, through eighth grade.
On March 5, 1948, she married Cornelius Van Middendorp. They lived in Doon before later moving to Sioux Center. After Cornelius died in 2006, she moved to Sheldon.
Survivors include three children, Jeroy Van Middendorp of Sheldon, Diane Van Middendorp of Sheldon and Lois (Tony) Saavedra of Hull, Iowa; five grandchildren; six great-grandchildren; four siblings, Pearl (Arnold) Nielsen of Hull, Della (Marlo) Muth of Akron, Iowa, Bernie (Sharon) Van Veldhuizen of Rock Valley, Iowa, Lester (Harriet) Van Veldhuizen of Doon; a sister-in-law, Garlene Van Veldhuizen of Alvord, Iowa, and numerous nieces and nephews.
She was preceded in death by her parents; her husband; son, Corwyn Van Middendorp; an infant brother; infant twin sisters; two sisters, Henrietta (Marvin) Van Weide and Verna (Hank)Wallenburg; brother, John H. Van Veldhuizen, and brother-in-law, Arnold Sohl.