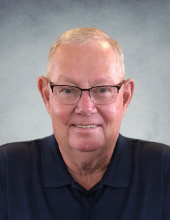 73
Hull, Iowa
September 15, 2020
Gene Van Roekel, 73, of Hull, Iowa, passed away Tuesday, Sept. 15, 2020, at Avera McKennan Hospital and University Health Center in Sioux Falls, South Dakota.
Private family graveside service was Saturday, Sept. 19, at Hope Cemetery, Hull.
Gene Donald was born Sept. 25, 1946, in Hull, son of Gershom and Edna (Vermeer) Van Roekel. He was raised in Hull and was drafted into the U.S. Army after graduating from Boyden-Hull High School.
On June 14, 1969, he married Carol Van Kley. They made their home in Hull. In addition to farming, he owned and operated VR Repair in Hull which he sold to his son, Greg, in 2004.
He was a member of Hull Christian School Board and Wegman-Koele American Legion Post in Hull.
Survivors include his wife; four children, Galen (Kimberly) Van Roekel of St. John, Indiana, Lisa (Brian) De Boer of Sioux Center, Iowa, Greg (Sara) Van Roekel of Hull, and Ryan Van Roekel, of Sioux Falls; nine grandchildren; three sisters, Beth Westra of Fulda, Minnesota, Carole (Walter) Kilmanas of Minnetrista, Minnesota, and Linn (Brad) Vermeer of Overland Park, Kansas; a brother-in-law, Jim Rausch of Rowlett, Texas; Carol's siblings, Marilynn (Lyle) Gritters, Bill (Sandy) Van Kley and Leon (Kathy) Van Kley, all of Sioux Center; and numerous nieces and nephews.
In addition to his parents, he was preceded in death by his wife's parents, Floyd and Marie Van Kley; a sister, Marilyn Rausch, and two brothers-in-law, Dwayne Westra and Tim Ribbens.