Gary Mars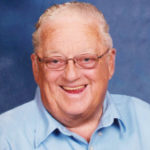 80
Hull, Iowa
December 15, 2018
Gary Mars, 80, of Hull, Iowa, passed away Saturday, Dec. 15, 2018, at Dougherty Hospice House, Sioux Falls, South Dakota.
Funeral service was Wednesday, Dec. 19, at First Reformed Church, Hull, with interment in Hope Cemetery, Hull.
Gary Dean was born Nov. 10, 1938, in rural Orange City, Iowa, the son of Jacob and Henrietta (Hofland) Mars. He was raised at Middleburg and graduated from Rock Valley Christian School. He first worked for area farmers, then moved to Michigan where he was employed at Keeler Brass for 1 ½one and one-half years. After moving to Orange City, he worked for Hi-Precision one and one-half years.
On Dec. 16, 1960, he married Hendrene Joan Zoet. Since 1963, they have farmed northeast of Hull. He was a member of the board of directors of the Hull Christian School.
Survivors include his wife; a son, Michael (Frea) Mars of Park Forest, Illinois; three daughters, Cindy (Alan) Hofman of Sanborn, Iowa, Sandra (Tracy) Weidner of Hull and Melissa (Mark) Gurtler of Sheldon, Iowa; nine grandchildren; two great-grandchildren; two sisters, Vel Falkena of Hospers, Iowa, and Darlene (Stan) Ekdom of Des Moines, Iowa; three brothers, Don (Audrey) Mars of Hastings, Nebraska, Bob (Sue) Mars of Des Moines and Randy (Wanda) Mars of Alton, Iowa; a sister-in-law, Jeanette Jager of Sioux Center; a brother-in-law, Mick (Betty) Vande Brake of Orange City; and many nephews and nieces.
In addition to his parents, he was preceded in death by two brothers, Lige Mars and Jerry (Sandie) Mars; three sisters, Gertrude Vande Brake, June (Clarence) De Vos and Shirley Beth Mars, in infancy; a brother-in-law, Fred Falkena, and a sister-in-law, Debbie Mars.