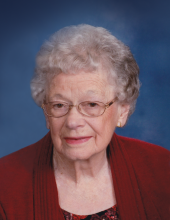 93
Hull, Iowa
November 22, 2021
Elizabeth De Vos, 93, of Hull, Iowa, passed away Monday, Nov. 22, 2021, at Crown Pointe Estates Care Center in Sioux Center, Iowa.
Funeral service will be at 10 a.m. Wednesday, Dec. 1, at First Reformed Church, Hull, with interment in Hope Cemetery, Hull.
Elizabeth Lenore Dykstra was born Feb. 3, 1928, in Hull, daughter of Jurrien "Jerry" and Cynthia (Meerdink) Dykstra. She grew up north of Hull and attended country school through eighth grade.
On Jan. 23, 1951, she married Cornie W. De Vos. They made their home on a farm west of Sioux Center for a few years before moving to a farm north of Hull. In 1995, they moved to a home in Hull. Her husband passed away Sept. 21, 2016, in Sioux Center. In 2018, she became a resident of Aspen Heights Assisted Living in Hull. Earlier this year, she moved to Crown Pointe Estates Care Center.
Survivors include five children, Dennis (Katherine) De Vos of San Francisco, California, Glenda (David) Skallerud of Iowa City, Iowa, Leanne (the Rev. Mark) Tidd of Denver, Colorado, Lyle (Ronna) De Vos of Hull and Daryl (Julie) De Vos of Sioux Falls, South Dakota; 11 grandchildren; four great-grandchildren; a sister, Marlene (Clarence) Van't Hul of Canton, South Dakota; a sister-in-law, Wilma Kuiken, and a brother-in-law, Harold (Sharon) De Vos.
In addition to her parents and husband, she was preceded in death by a daughter-in-law, Peggy De Vos; three brothers, Joel (Tracy) Dykstra, Donald (Anna Mae) Dykstra and Leroy (Henrietta) Dykstra; two sisters-in-law, Dorothy (Sam) Klein and Nellie (Hilbert) De Weerd, and two brothers-in-law, Clarence (June) De Vos and Harold Kuiken.