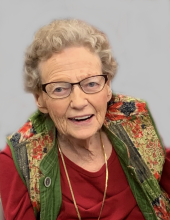 88
Sheldon, Iowa
November 11, 2020
Dorothy A. Merrill, 88, of Sheldon, Iowa, passed away Wednesday, Nov. 11, 2020, at Sanford Sheldon Medical Center.
Private family graveside service will be at East Lawn Cemetery in Sheldon. 
Dorothy Ann Houtsma was born Feb. 28, 1932, in rural Sioux County, Iowa, daughter of Cornelius and Jennie (Jacobsma) Houtsma. She graduated from Hospers Christian School.
On Aug. 25, 1950, she married Dale Merrill. They lived in Boyden, Iowa, for a few years and then moved to Sheldon. She worked at National Food Store, Keen Korner and Pamida. In her later years, she was a part of a group that cleaned houses in Sheldon.
Survivors include three sons, Randy (Pat) Merrill of Sheldon, Tim Sr. (Mary) Merrill of Rochester, Minnesota, Neal (Jenette) Merrill of Sioux Falls, South Dakota; daughter-in-law, Cyndi Olson; 10 grandchildren and 10 great-grandchildren.
She was preceded in death by her husband; son, Bob Merrill; her parents; two sisters and three brothers.