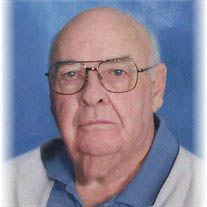 Dale Merrill
86
Sheldon, Iowa
March 11, 2019
Dale Merrill, 86, of Sheldon, Iowa, passed away Monday, March 11, 2019, Fieldcrest Assisted Living, Sheldon. 
Funeral services were Friday, March 15, at First Reformed Church, Sheldon, with interment in East Lawn Cemetery, Sheldon.
Dale Merrill was born Nov. 11, 1932, in Sheldon, son of Freeman and Vera (Shaffer) Merrill. He grew up in Sheldon and graduated in 1950 from Sheldon High School. After high school, he was employed by Metz Baking Co. 
On Aug. 25, 1950, he married Dorothy Houtsma. They lived in Boyden, Iowa, a few years and then moved to Sheldon. Throughout his career, he worked for Smit and Sons, Tri-State Livestock and Marv Donkersloot. He was also a Sheldon city councilman many years.
Survivors include his wife; three sons, Randy (Pat) Merrill of Sheldon, Tim Sr. (Mary) Merrill of Rochester, Minnesota, and Neal (Jenette) Merrill of Sioux Falls, South Dakota; daughter-in-law, Cyndi (Lloyd) Olson of Sioux Falls; 10 grandchildren and nine great-grandchildren. 
He was preceded in death by a son, Bob Merrill; parents; brother and sister-in-law, Freeman and Virginia Merrill, and sister, Chevier Miller.