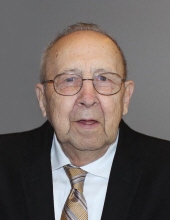 83
Hull, Iowa
December 23, 2020
Bernard Driesen, 83, of Hull, Iowa, passed away Wednesday, Dec. 23, 2020, at Avera Merrill Pioneer Hospital in Rock Rapids, Iowa.
Funeral service was Monday, Dec. 28, at Calvary Protestant Reformed Church, Hull, with interment in Hope Cemetery, Hull.
Bernard was born Sept. 17, 1937, in Rock Valley, Iowa, son of Bert and Jennie (De Boer) Driesen. He graduated from the Western Christian High School in Hull before serving in the U.S. Army two years.
On Aug. 31, 1960, he married Margaret Mae Hoekstra. They made their home in Rock Valley 10 years, where he worked with his dad at Driesen Implement. Then they moved to Boyden where they farmed the Hoekstra family's land.
Mr. Driesen was a member of Calvary Protestant Reformed Church in Hull and served on the board of Hull Protestant Reformed Christian School.
Survivors include his wife; four children, Sheri Driesen of Sheldon, Iowa, Judi (Daryl) Wesselink of Hull, Lori (Steve) Boote of Sioux Falls, South Dakota, and Brian (Valerie) Driesen of Bakersfield, California; 13 grandchildren; eight great-grandchildren; five siblings, Harold (June0 Driesen of Hull, Helen Remmerde, of Aumsville, Oregon; Carol, and her husband, Rod Sandbulte, of Carmel; Marion Driesen of Oostburg, Wisconsin, and Diane (Harry) Rozeboom of Rock Valley; two sisters-in-law, Nella Driesen of Hull and Donna Driesen of Rock Valley; a brother-in-law, Howard Van Otterloo of Salem Oregon; Margaret's siblings, John Hoekstra and Beverly Hoekstra, both of Jenison, Michigan, and numerous nieces and nephews.
In addition to his parents, he was preceded in death by a son, Mark Alan Driesen; a great-granddaughter; three siblings, Gene Driesen, Don Driesen and Elaine Van Otterloo; a brother-in-law, Ken Remmerde, and a sister-in-law, Marie Hoekstra.