Annetta Mulder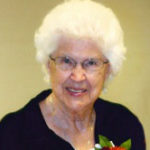 92
Sioux Center, Iowa
July 9, 2019
Annetta Mulder, 92 of Sioux Center, Iowa, died Tuesday, July 9, 2019, at Sioux Center Health.
Funeral service was Friday, July 12, 2019, at the Faith Christian Reformed Churc, Sioux Center, with interment in Memory Gardens Cemetery, Sioux Center.
Annetta Jacoba Sankey was born May 21, 1927, in Crookston, Nebraska, to John and Sadie (Bouma) Sankey. She grew up in Hull, Iowa, and attended Western Christian High School.
On April 5, 1946, she married Bernard Riepma. They lived in northwest Iowa, California and southwest Minnesota. Her husband died in 1994.
On March 21, 1997, she married Dick B. Mulder. He died in 2008.
She worked for K-Products and Ideal Dry Cleaners in LeMars, Iowa, and was a housekeeper for Dordt College several years.
Survivors include six daughters, Cheryl Prins of Sioux Falls, South Dakota, Ruth (Larry) Riemersma of Sioux Center, Elaine (Chuck) Zomermaand of Struble, Iowa, Sally (Mike) Vander Weide of Spencer, Iowa, Deb (Todd) Ter Haar of Sioux Center and Cindy (Dale) Stupke of Las Vegas, Nevada; four sons, Duane Riepma of Craig, Iowa, Randy Riepma of Westminster, Colorado, Mike (Kerri) Riepma of Struble and Tony Riepma of Westminster; a daughter-in-law, Marilyn Riepma of Leesburg, Florida; 33 grandchildren; 77 great-grandchildren; 5 great-great-grandchildren; two sisters, Tracy Mulder of Phoenix, Arizona, and Evelyn (Alvin) Mulder of Edgerton, Minnesota; two brothers, Arlen Sankey of Brookings, South Dakota, and Les and Lorraine Sankey of Luverne, Minnesota, and other extended relation.
She was preceded in death by her husbands; her parents; a son, Roger Riepma; daughter and son-in-law, Sue and Martin Moeller; son-in-law, David Slothauber; daughter-in-law, Toni Riepma; brother, Elmer Sankey, sister, Marilyn Zuiderveen, and two grandchildren.