Adrian den Hoed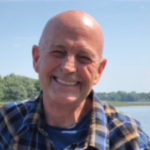 67
Sioux Falls, South Dakota
January 24, 2019
Adrian "Adri" "Ace" den Hoed, 67, of Sioux Falls, South Dakota, passed away Jan. 24, 2019, at Dougherty Hospice House.
Memorial service was Monday, Jan. 28, at Heritage Funeral Home, Sioux Falls.
Adrian den Hoed was born July 11, 1951, in Patterson, New Jersey, to Aart and Marie (Noorlander) den Hoed.
Survivors include two sons, Doug (Laura) Baker of Hamilton, Michigan, and Joel (Tammi) den Hoed; one daughter, Stephanie (Nathan) Johnson of Orange City, Iowa; six grandchildren; 14 brothers and sisters, Corrie Schelling of Sioux Center, Iowa, Bill (Gert) den Hoed of Canton, South Dakota, John (Diane) den Hoed of Albany, Georgia, Nanda Ver Steeg of Visalia, California, Mina Sly of Springfield, Missouri, Aart (Sharon) den Hoed of Quapaw, Oklahoma, Piet (Arlene) den Hoed of San Antonio, Texas, Marie (Andy) Teunissen of Doon, Iowa, Arie (Betty) den Hoed of Rock Valley, Iowa, Leen (Trudy) den Hoed of Sioux Falls, Abe (Shirley) den Hoed of Hull, Leo (Elaine) den Hoed of Fort Collins, Colorado, Walt (Lavone) den Hoed of Hull and Trudy (Rich) Carstens of Farwell, Minnesota; along with many nieces, nephews, great- nieces and nephews.