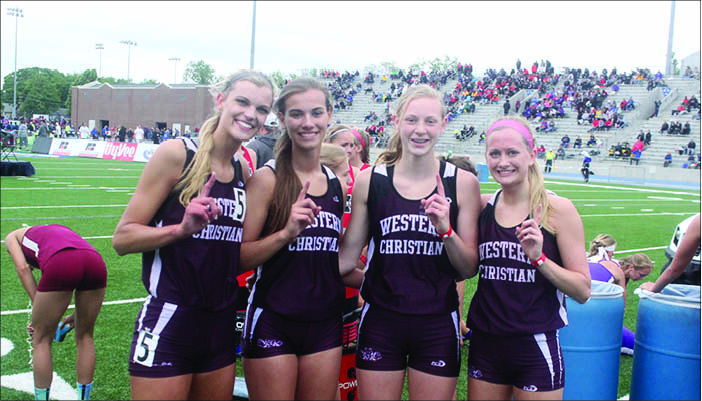 DES MOINES-For the first time in a few years, Boyden-Hull/Rock Valley and Western Christian found themselves fighting against each other on the state stage in Class 2A, but both teams got enough top-10 finishes, highlighted by Caden Fenchel in the throws and the girls' sixth-place team finish for Western Christian while Cassie Van Beek took home a state title and the boys' 4×100-meter relay team highlighted Boyden-Hull/Rock Valley Thursday, Friday and Saturday.
Western Christian began the state competition with Caden Fenchel in the boys' shot put Thursday, the day that proved to be the best weather-wise. The temps were in the upper-50s to 60 for much of the day with mostly cloudy skies. The first official throw for Fenchel went 58'7", before he broke a personal record with a toss of 61'8-1/4" in his second throw. The final throw went 60'9-1/2", but the 61-footer was good enough to qualify Fenchel for the shot put finals. In those finals, Fenchel threw 59'2-1/2", 60'3" and 60'7-3/4". In the end, the judges went with Fenchel's PR throw of 61'8-1/4" to place him as the second-best shot put thrower in Class 2A for 2017. Jared Brinkman of Iowa City Regina won the state title with a new state meet record toss of 63'4".
"I'm very happy with myself. My goal at the beginning of the year was to break 60 (feet) and I set a PR with a 61-plus," Fenchel said. "Second kind of sucks because I got that close to winning, but Brinkman was throwing 65; I cannot complain at all. I'm happy with the results."
Fenchel then tested his talents Friday in the discus throw in less-than-ideal conditions. Temps were in the mid-40s to mid-50s with light drizzle throughout the day. Those condiditions may have affected Fenchel as he did not have as much luck as he did the shot put. His first throw went 158'3" before scratching on the next two tosses. Fortunately, Fenchel's lone official toss was good enough to send him into the finals. In those finals, Fenchel threw 159'10", 154'3" and 156'3". In the end, the judges took the toss of 159'10" and that placed Fenchel as the seventh-best discus thrower in Class 2A.
"Caden had an incredible track and field career. He worked extremely hard at his craft and it paid off tremendously," said Western Christian boys' track coach Travis Kooima. "The 2A throwing field in both the shot and the discus was the toughest field in the state and a huge highlight of the last two days was Caden finishing second in the shot put. He had a great day on Thursday and it was great to see him place second in the shot."
Boyden-Hull/Rock Valley also began its state competition highlights Thursday with Cassie Van Beek in the shot put. Van Beek's first throw went 35'9-1/2", with the second going 35'10" and her final throw sailing 36'3-1/2". Unfortunately, Amber Boekenstedt of Beckman had a toss of 37'1-1/4" that qualified her for the eighth and final spot in the shot put finals and Van Beek had to settle for ninth place.
"It definitely was not my best and, obviously, when you are at state you have to perform you best. I didn't do that," Van Beek said. "I was kind of nervous at the beginning, but I started to relax after my first throw so I just wasn't feeling it today I guess. Ninth place isn't too bad, but I know I can do a lot better because my throws in warm-ups were a lot better than my actual throws."
With the disappointing performance in the shot put, Van Beek was looking for redemption in the high jump Friday. She got that redemption and then some, winning the state title with a leap of 5'4".
"Oh, yes, a lot better (than the shot put). It's definitely more crappier weather, but I guess I perform a lot better in crappier weather, so I'm very happy," Van Beek said.
Van Beek only needed one jump to clear the bar at 4'10", 5' and 5'2". Then after missing on the first two jumps Van Beek was able to clear the bar at 5'4" to send her into what ended up being a semi-final match with defending Class 2A state high jump champion Sydney Durbin of OA-BCIG. As the bar was set to 5'5", neither Van Beek or Durbin was able to clear it in their three tries, resulting in a sudden-death playoff at 5'5". Neither athlete was able to clear the height and the judges lowered the bar back down to 5'4". Van Beek was first to jump and cleared the height on her first try, putting the pressure on Durbin. In the end, Durbin just nicked the bar with her back end and Van Beek was declared champion.
"This is the first time I've been in this position. I was very relieved, but she (Durbin) did a great job and I am very happy for her," Van Beek said. "She was the past high jump champion, but I'm very glad to have this opportunity (to be a state champion) and to accomplish it."
Van Beek then finished off her run at state by racing in the 4×100-meter relay team that finished 24th right after Van Beek got done with the high jump. Despite the somewhat disappointing finish in the 4×100, Boyden-Hull/Rock Valley girls' coach Wade Vander Maten felt Van Beek will be a name Nighthawk fans will remember for a while.
"I think she'll go down as one of the greatest athletes at Boyden-Hull/Rock Valley. She's state champ in the high jump, she did extremely well in the shot put and she ran in our qualifying 4×100 team. Her unique set of abilities is pretty cool," Vander Maten said.
Also jumping in the high jump were Cori DeJong and Jessi DeJager of Western Christian. DeJong was the highest-place finisher as a junior with a fourth-place leap of 5'2". DeJager finished eighth with a leap of 5'.
DeJong was disappointed in her finish, but knows she has one last chance next season to get back to state.
"It's not what I wanted, but it feels good to be here. It's a great opportunity and it's a blessing to be able to come here and jump again," DeJong said. "It's frustrating that you didn't do as good as you hoped you would, but I'm hopeful for next year. I just have to get into the weight room this summer, work on it and stay away from the injuries."
For DeJager this was the first time not only at the state meet, but jumping high jump on the high school level due to her freshman status. That said, DeJager was pleased to have finished in eighth on the biggest stage in high school.
"I thought I did alright. I didn't beat what I have gotten this year so that was disappointing, but it's alright," she said.
The other highlights came on the track Friday with the Wolfpack girls claiming a runner-up state finish in the 4×200-meter relay, after finishing third a season ago behind state champion Cascade-Western Dubuque.
"It's nice that we qualified and could come back in the 4×200 and we finished one place better than we did last year," said the Wolfpack anchor Erika Feenstra. "I was a little disappointed that we didn't get first, but we were still happy with how we ran."
During that anchor leg, Feenstra was running neck-and-neck with Rachel Trumm of Cascade-Western Dubuque, but Trumm pulled away during the final 100 meters to take the title.
"I tried to close the gap as much as I could at the end, but it just wasn't enough," Feenstra said. "The first three runners (Taylor Rus, Bailey Nelson and Emily Van Ginkel) ran really great legs, which put us in a position to get second and that's how we finished."
Boyden-Hull/Rock Valley also ran that relay and finished in ninth. Also highlighting the track Friday was Boyden-Hull/Rock Valley's distance medley relay of Jacob Schafer, Riley Teunissen, Isaac Munoz and Billy Rankin. The Nighthawks ran in lane eight and held the lead through Munoz's second leg. But the rest of the field soon caught up and Rankin ended up fighting with the middle of the pack for fifth place. Coach Brian Moser could not have been happier for his team.
"I was really pleased with how we ran the distance medley overall. We got a 1:39.50 out of Billy. As a team we ran two seconds better than we did at districts. Just extremely pleased with how we ran in that," Moser said.
Other notable finishes from Thursday was Zach Elbers with a 20th-place finish in the 3200-meter, run in a personal best time of 10:14 Thursday for Western Christian.
"Zach had a great junior year and showed great improvement every meet. Zach loves to run and trained hard all season. To run his best time in the two-mile is very promising going into his senior year of cross-country and track," coach Kooima said.
In the 4×800-meter relays Thursday, the Western Christian girls finished 11th and the Boyden-Hull/Rock Valley boys took 13th. Other highlights from Friday was the 12th-place finish from Western Christian in the distance medley relay and Kaden Willemssen taking 16th in the 110-meter high hurdles for Boyden-Hull/Rock Valley.
"He (Willemsen) didn't have a great start, but he battled back. It also wasn't his best time of the year in tough weather conditions, but I thought he ran well," said Nighthawk boys' coach Brian Moser. "He gave us a good effort all year in that event and it's something he'll get better at. A big goal for him was to get to state and he was able to accomplish that."
Mixed weather aside Saturday, the highlight for Western Christian was the state title won by the girls' 4×400-meter relay team. As the race started, the Wolfpack were running between third and second for much of the race before the baton was handed to Emily Van Ginkel for the third leg. She put on the jets for the final 200 meters and Western Christian found itself in first place for Feenstra's final leg. Feenstra kept the pace Van Ginkel set and Western Christian beat out PCM-Monroe for its second-straight state title in a time of 4:01.78. PCM-Monroe had a time of 4:04.19.
"Emily Van Ginkel had a great first leg, which put me in a good place for the last lap. I just wanted to end the race the way they started the race for me," Feenstra said. "It's (repeating as state champions) awesome. Last year was a great feeling, but now that I'm a senior I wanted to do it again because we knew how good it felt last time."
Prior to running the 4×400, Feenstra ran on the seventh-place 4×100-meter relay team and took third in the open 200.
"It's such a blessing to make it to state in four events and now that I've medaled in four events that's even more of a blessing. Ending it with a state title is a perfect way to end my senior year at Western," Feenstra said.
Other Western Christian finishes in the finals were the girls' 10th-place finish in the sprint medley run by Taylor Rus, Olivia Granstra, Emily Van Ginkel and Bailey Nelson. In the end, the Wolfpack finished the 2017 state track meet with a sixth-place team finish, scoring 31.33 points.
"Obviously, when we peak at the state meet, it talks volumes to our coaching staff. I want to thank coach Kooima for his work with the sprinters this year as well as Morgan Kooima and Kyle Fykstra, our assistant coaches," said Wolfpack girls' coach Mark Fenchel. "As you get deeper into the season you start looking at your times more and start comparing those times and distances with other teams. I knew we had to compete at a high level and prepare ourselves well going into the meet to score some quality points. I felt we did that."
Fenchel felt the 4×400 was a bit of an underdog despite winning the state title a year ago, but was pleased the team found a way to repeat as champions.
"I knew we were coming into the 4×400 a bit of an underdog, but we had a great prelim Friday to boost our confidence. It's nice to defend the 4×400 title with the effort the team provided," Fenchel said. "Bailey (Nelson) had a solid start with the leadoff leg and Macay (Van't Hul) was impressive with her exchange. Once the baton got into Emily's hand and she hit her stride and took the lead around her 200 mark, I was pretty sure Erika wasn't going to be caught in her last race. Nice to know we shaved off eight seconds in a week and I think we took some teams by surprise."
The lone representative for the Wolfpack boys was Tyson Kooima in the 100. He qualified for the finals with a fourth-place dash of 11.14 seconds in the prelims Thursday after finishing 10th in the open 200 prelims that same day. Unfortunately he made a slight move out of the box prior to the start of the gun. Tyson Kooima was called for a false start and was disqualified. But brother and coach Travis Kooima felt Tyson had a good end to his final year in track.
"Tyson had a great senior season on the track. He worked hard in the weight room this offseason and his times kept getting better throughout the track season," coach Kooima said. The Wolfpack finished 19th as a team with 13 points
For the Nighthawks, the boys' 4×100-meter relay team ended the meet as the third-best relay team in Class 2A with a time of 44.37 seconds. Albia won the state title in a time of 42.67 seconds.
"We've worked hard all year and we finished it off good," said Boyden-Hull/Rock Valley's anchor Riley Teunissen.
Teunissen noted the third-place finish would not have been possible without his teammates Jacob Schafer, Cody Post and Shane Solberg running the first three legs.
"They're just amazing runners. They've been busting their butts all year and they're just good runners," he said.
Coach Moser said it was a welcome sign to see the 4×100 run well after what he thought was a disappointing run in the 4×200 Friday. The 4×200 finished 19th overall.
"We had a couple of missed opportunities in the 4×200 and some of our other relays, but that happens sometimes. So I just talked to the kids before the 4×100 about having clean exchanges and to run hard. If we did that I felt that we would be able to finish third and we did that," he said.
As teams, the Nighthawk girls finished 24th with 10 points and the boys also took 24th with 10 points. That said both coaches were pleased to have seen Boyden-Hull/Rock Valley athletes finish their seasons at state.
"I thought the girls ran really well. You always want to continue to get better and our girls definitely did that down there," Vander Maten said. "We got better in every relay that we ran and it was just a really good track season this year. Just a fun way to end it."
"It was a positive way to end the season," coach Moser said. "The weather wasn't great, but we practiced in that all season and I thought the kids responded well to that. We have a lot of young kids from this season that will be returning and this experience will benefit them for the future."
The 2017 Class 2A state track and field meet in Des Moines
Girls' team results:1. Cascade-Western Dubuque 65, 2. Mid-Prairie 58, 3. Pocahontas Area 44, 4. Monticello 42, 5. Madrid 34, 6. Western Christian 31.33, 7. Aplington Parkersburg 30, 8. Pella Christian 25, 8. West Marshall 25, 10. North Cedar 22, 11. Albia 21.33, 12. Davis County 19, 13. Alta-Aurelia 18, 14. Unity Christian 17, 15. (tie) Panorama 16, 15. (tie) Sioux Center 16, 15. (tie) West Central Valley 16, 15 (tie) North Fayette Valley 16, 19. Sumner-Friedrichsburg 15, 20. (tie) PCM-Monroe 11, 20. (tie) Louisa-Muscatine 11, 22. (tie) Boyden-Hull/Rock Valley 10, 22. (tie) Tipton 10, 22. (tie) OA-BCIG 10, 22. (tie) Sheldon 10.
Boys' team results:1. (tie) Kingsley-Pierson/Woodbury Central 61, 1. (tie) Madrid 61, 3. Albia 52, 4. Beckman 34, 5. (tie) Dike-New Hartford 29, 5. (tie) Anamosa 29, 7. (tie) Kuemper Catholic 23, 7. (tie) Northeast Goose Lake 23, 9. (tie) Aplington-Parkersburg 22, 9. (tie) Treynor 22, 11. (tie) Odgen 20, 11. (tie) AHSTW 20, 13. (tie) Camanche 19, 13. (tie) North Fayette Valley 19, 15. Mid-Prairie 17, 16. (tie) South Winn-Calmar 16, 16. (tie) Cascade-Western Dubuque 16, 18. Cherokee 15, 19. (tie) Western Christian 13, 19. (tie) Sibley-Ocheyedan 13, 19. (tie) Denver 13, 22. Iowa City-Regina 12, 23. Central Decatur 11, 24. (tie) Unity Christian 10, 24. (tie) Boyden-Hull/Rock Valley 10, 26. Des Moines Christian 9.
Individual Western Christian and Boyden-Hull/Rock Valley results
Girls' shot put:9. Cassie Van Beek (BHRV) 36'3.5" (top eight made finals)
Girls' high jump:1. Cassie Van Beek (BHRV) 5'4", 4. Cori DeJong (WC) 5'2", 8. Jessi DeJager (WC) 5'
Girls' 100-meter dash:15. Taylor Rus (WC) 12.99 seconds (top eight made finals)
Girls' 200-meter dash:PRELIMS 4. Erika Feenstra (WC) 26.08 seconds FINALS 3. Erika Feenstra 26.54
Girls' 4×100-meter relay:PRELIMS 7. Western Christian 51.35 seconds, 24. Boyden-Hull/Rock Valley 52.72 participants Lona Hoogeveen, Charli Bomgaars, Cassie Van Beek, Britney Rus
FINALS 7. Western Christian 51.55 seconds participants: Taylor Rus, Olivia Granstra, Emily Van Ginkel, Erika Feenstra
Girls' 4×200-meter relay:2. Western Christian 1:45 participants: Taylor Rus, Bailey Nelson, Emily Van Ginkel, Erika Feenstra, 9. Boyden-Hull/Rock Valley 1:49 participants Lona Hoogeveen, Sydney Damstra, Lizzy Blum, Britney Rus
Girls' 4×400-meter relay:PRELIMS 2. Western Christian 4:03, FINAL 1. Western Christian 4:01 participants: Bailey Nelson, Macay Van't Hul, Emily Van Ginkel, Erika Feenstra
Girls' 4×800-meter relay:11. Western Christian 9:57 participants: Whitney Minderhoud, Abby Postma, Ally Postma, Macay Van't Hul
Girls' sprint medley relay:10. Western Christian 1:53 participants: Taylor Rus, Olivia Granstra, Emily Van Ginkel, Bailey Nelson 18. Boyden-Hull/Rock Valley 1:55 participants: Lona Hoogeveen, Charli Bomgaars, Britney Rus, Lizzy Blum
Girls' distance medley relay:12. Western Christian 4:21 participants: Olivia Granstra, Cori DeJong, Jessi DeJager, Macay Van't Hul 15. Boyden-Hull/Rock Valley 4:24 participants: Kenzie Zomer, Britney Rus, Lizzy Blum, Sammy Blum
Boys' shot put:2. Caden Fenchel (WC) 61'8.25" PRELIM THROWS: 58'07", 61'8-1/4", 60'9-1/2" FINALS THROWS 59'5-1/4", 60'3", 60'7-3/4"
Boys' discus:7. Caden Fenchel (WC) 159'10" PRELIM THROWS 158'3", Foul, Foul FINALS THROWS 159'10", 154'3", 150'3"
Boys' high jump:16. Ben Gesink 5'10"
Boys' 100-meter dash:PRELIMS 4. Tyson Kooima (WC) 11.14 (made finals) FINALS Disqualified on a false start
Boys' 200-meter dash:PRELIMS 10. Tyson Kooima (WC) 22.89 seconds
Boys' 110-meter hurdles:16. Kaden Willemssen (BHRV) 15.57 seconds
Boys' 3200-meter run:20. Zach Elbers (WC) 10:14
Boys' 4×100-meter relay:PRELIMS 6. Boyden-Hull/Rock Valley 44.56 seconds, 9. Western Christian 44.7 participants: Justin Grevengoed, Ben Granstra, Ben Gesink, Tyson Kooima FINALS 3. Boyden-Hull/Rock Valley 44.37 participants: Jacob Schafer, Cody Post, Shane Solberg, Riley Teunissen
Boys' 4×200-meter relay:19. Boyden-Hull/Rock Valley 3:34 participants: Jacob Schafer, Riley Teunssen, Shane Solberg, Cody Post
Boys' 4×400-meter relay:PRELIMS 19. Boyden-Hull/Rock Valley 3:34 participants: Jacob Schafer, Isaac Munoz, Billy Rankin, Cade Moser
Boys' 4×800-meter relay:13. Boyden-Hull/Rock Valley 8:24 participants: Billy Rankin, Isaac Munoz, Spencer TeSlaa, Sam Te Slaa
Boys' sprint medley relay:13. Boyden-Hull/Rock Valley 1:37 participants: Shane Solberg, Cade Moser, Cody Post, Billy Rankin
Boys' distance medley relay:5. Boyden-Hull/Rock Valley 3:38 participants: Jacob Schafer, Riley Teunissen, Isaac Munoz, Billy Rankin