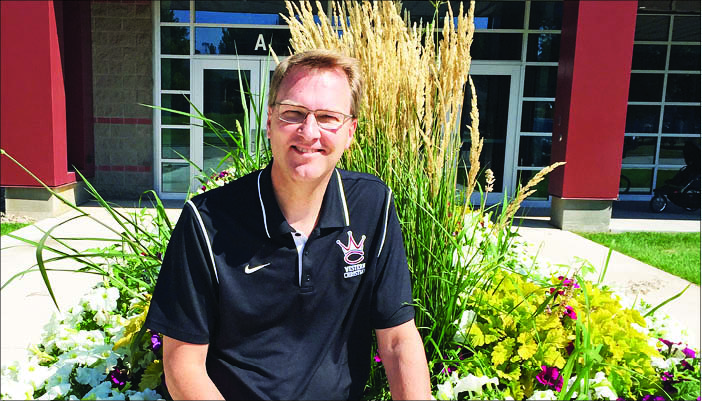 Last year, Western Christian High School in Hull wrapped up a huge building and remodeling project. This year, principal Dan Barkel brings his full attention back to education.
"This year we'll be thinking less about nuts and bolts, paint and plaster," he laughed.
After 26 years at the school, six of them as principal, Barkel is still enthusiastic about a new school year.
"One of the most interesting and exciting things happening at Western this year is our new exchange program with Geijdanus School of Zwolle, Netherlands," he said.
For three weeks during the fall, the school will be sending six students to Western. They will stay with host families in the area. In the spring, Western will send up to six students to the school in Zwolle for three weeks.
"The students from the Netherlands want to understand our culture and the people of the United States," explained Barkel. "In return, our kids get to experience their culture and get to know that part of the world. I think it will be good for everyone."
Zwolle has a population of around 120,000. The city, in its present form, was settled around the year 800.
Geijdanus School is a Christian school in the Reformed tradition with over 1,000 students and satellite campuses, according to Barkel. Western expects to have an enrollment of around 255 this year.
"A school that size would be a very different experience for our kids. And they take the students on day trips to European cities, such as Paris. It would give them a taste of the world beyond northwest Iowa."
"Geijdanus School is committed to internationalization — studying cultures beyond their own — while keeping it in the context of a Christian education experience," added Barkel. "Western is just one of many schools in the United States that they have an exchange program with."
Barkel admitted he was a little concerned that students from Zwolle might think northwest Iowa was a little boring.
"But the people that I talked to from the Geijdanus School told me their students love a rural setting," he said. "They have an exchange program with a school in Alberta, Canada, and kids from the Netherlands are very interested in seeing big ag machinery and large-scale farming."
Western is in the process of establishing criteria for which students can be part of the exchange program.
Barkel is also excited about the new accreditation process the school completed last year with the help of Christian Schools International.
A few years ago the Iowa legislature began to allow non-public schools to seek accreditation through means other than the Iowa Department of Education. "We're still an accredited school, we just used a different accrediting agency," explained Barkel. "Most states use this route.
"This is a good process for us because it lets us focus on our mission statement and what we're doing as a school — teaching through lessons of Christian faith. We still have site visits and an accreditation process, it's just more meaningful for our situation."
Through that process, Western crafted a school improvement plan that will guide it through education improvements for the next five years.
Students will see even more color in the building when they return to school. Western obtained another paint grant last spring and new shades were added to the cafeteria, classrooms and stairwells.
Barkel is also looking ahead to an ambitious spring project when the horticulture class plans to beautify the school's courtyard.
"Cleaning up the courtyard and adding some plants will continue our plan to create a pleasing atmosphere at Western," he said.