Wayne Steenhoven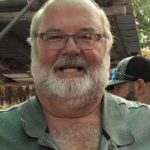 65
George, Iowa
July 23, 2019
Wayne Steenhoven, 65, of George, Iowa, died Tuesday, July 23, 2019, at Avera Merrill Pioneer Hospital in Rock Rapids, Iowa.
Funeral services were Saturday, July 27, at First Reformed Church, Boyden, Iowa, with interment in Evergreen Lawn Cemetery, George.
Wayne Allen Steenhoven was born Feb. 10, 1954, at Montevideo, Minnesota, the son of Arie and Alice (Pollema) Steenhoven.  His family moved to northwest Iowa where he attended school at Boyden until the second grade. The family then moved west of George, where he attended school and graduated from George High School in 1972. He worked at Coop Oil and attended Northwest Iowa Technical College for welding. He worked at Demco in Boyden and soon after started driving truck. He was a driver/operator and later owned and managed two trucks that delivered loads for Sather's and other various companies.  
On Oct. 3, 1973, he married Lucille Meendering. They farmed and lived near George.  
Survivors include his wife; sister, Alethea (Jack) Stubbe of George; brother, Steve (Lynette) Steenhoven of George; sister-in-law, Kathy Steenhoven of Doon, Iowa; his in-laws, Marlene Stubbe of George, Gerald (Diann) Meendering  of Aurelia, Iowa, Leona Meendering of Sibley, Iowa, Gladys (Dwight) Shaffer of George, Audrey (Conrad) DeNoble of Rock Rapids, and Eleanor (Alan) Julius of George; along with many nieces, nephews and great nieces and nephews.
He was preceded in death by his parents; brother, Arlen Steenhoven; father- and mother-in-law, Andrew and Ella Meendering; brothers-in-law, Harlyn Stubbe and Ed Meendering, and sister-in-law, Louella Meendering.