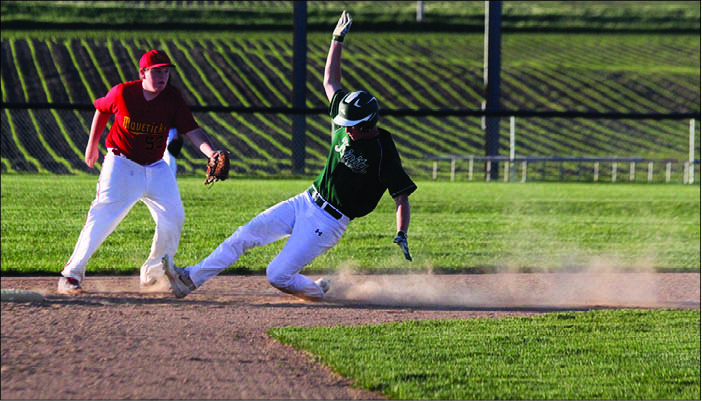 Trinity Christian0-0-0-0-2-X-X2
Harris-Lake Park4-1-7-1-X-X-X13
HARRIS-The Trinity Christian baseball team played its second game of the season Friday, May 26. The Tigers were defeated by Harris-Lake Park 13-2 in Harris.
The Tigers were defeated in five innings due to the 10-run rule.
"I don't think (starting pitcher) Jerron (Van Egdom) struggled and I don't think our offense struggled," said Trinity Christian coach Mike De Jager. "We had runners in scoring position in the first couple of innings. We need to do a better job at converting and getting those runs in."
Van Egdom was on the mound for Trinity Christian. He pitched two innings, allowed seven hits, nine runs, four earned runs, three walks and had two strikeouts. Traiton Cleveringa came in to relieve Van Egdom. Cleveringa went two innings, allowed four hits, four runs, one earned run and had two strikeouts.
De Jager says his pitchers were able to throw strikes.
"Our biggest question was going to be our second pitcher, whether or not Jerron, as a freshman, would be able to step up, and I thought he threw the ball well. He did what I asked him to. He attacked the zone with strikes," said the coach. "Traiton Cleveringa came in in the third inning to replace him and he did the exact thing I asked of him. He threw strikes and pitched to contact. He wasn't walking guys, and that's the main thing I tell our pitchers: to not issue any walks."
Ethan Van Bemmel led his team by going 3-for-3, including a double, a run scored, an RBI and a stolen base. Byron Maassen was 1-for-3 with an RBI and Torrey Heynen drew a walk and scored a run.
"Ethan Van Bemmel was by far our offensive leader. He was 3-for-3 and he did an excellent job," said DeJager. "The way the team bounced back with two runs in the fifth inning when it was 13-0, I was pleased with that, just to go home with something positive."
De Jager says it's still a long season ahead.
"It's early in the season. I'm not going to get too high or too low. There are a lot of peaks and valleys throughout the season. You just can't overreact to them," concluded De Jager.
Tigers force mercy rule in first official home game
Jason Hommes | Writer
jhommes@ncppub.com
Clay Central-Everly0-0-0-0-0-X-X0
Trinity Christian2-0-5-1-2-X-X10
HULL-The Trinity Christian baseball team played its first home game on their own field for the first time in school history Tuesday, May 30, and the Tigers took care of business with a 10-0 win in five innings against Clay Central-Everly in Hull.
Trinity Christian was extremely excited to play its first real home game.
"There was a lot of energy there last night," said Trinity Christian coach Mike De Jager. "It was the very first home baseball game we've ever had for Trinity. We've been the home team before but we were always playing at somebody else's park, so it was fun to christen our own ballpark, so to speak."
The offense was clicking for the Tigers. The one through four batters (Byron Maassen, Andrew De Boer, Logan Cleveringa and Ethan Heynen) combined for 7-for-10 hitting with five runs, three RBIs, four stolen bases and four walks. Dawson Vis also contributed with a 1-for-2 game, one run, one RBI, a stolen base and a walk.
"It was a lot of fun and the kids were amped," coach De Jager said. "They were ready to go and they really did their job well. Up and down the lineup I thought guys hit the ball well. Clay Central-Everly has been struggling with numbers and talent, but our kids didn't overlook them. We played the game we wanted to play."
Andrew De Boer was on the mound for Trinity Christian. He went all five innings. He allowed two hits and struck out eight batters.
"Andrew pitched phenomenally," De Jager said. "Again, I tell my pitchers to attack. Of his 47 pitches through five innings — 47 pitches is a coach's dream with this new pitch count rule — 38 of them were strikes. So he only threw nine balls in five innings."
De Jager was also pleased with the defensive effort his team had.
"Defensively, we made all the plays behind Andrew and that's the kind of defense that I expect our guys to play behind our other pitchers as well," he said.
Even though his team played well, De Jager said there is always room for improvement.
"We did have some runners on third with less than two outs and we didn't capitalize on quite a few of those situations and, again, that's probably the one thing we really need to work on right now. We'll work on that in practice," De Jager said. "Last night I think they were just trying to hit the ball a little too hard. The wind was blowing in and they weren't going to hit it too far anyway, so they just need to focus on line drives. We did have a few guys that were probably playing a little too hard and losing their technique and their focus."
Unlucky breaks cost Tigers
Nathan Broek | Sports Editor
nbroek@ncppub.com
Trinity Christian2-0-2-0-0-2-1-07
Unity Christian2-0-1-0-4-0-0-18
ORANGE CITY-Trinity Christian had another good offensive night at the plate, but a couple unlucky breaks gave Unity Christian the edge to hand the Tigers an 8-7 non-conference baseball defeat in eight innings Thursday, June 1.
Trinity Christian scored twice in the top of the first inning before the Knights came back to tie in the bottom half with two runs of their own. After a scoreless second frame, the Tigers scored two more times in the top of the third. Unity Christian countered with a single run in the bottom half, but Trinity Christian held a 4-3 advantage.
After a scoreless fourth stanza, the Knights took its first lead of the contest with four runs in the bottom of the fifth for a 7-4 lead. The Tigers battled back for two runs in the sixth and one in the seventh to force an extra inning.
As the game went into the eighth inning, Trinity Christian got a runner on, but was unable to send him home and the game remained tied at 7 for the bottom half. That bottom half started with a Knight batter hitting a routine fly ball into center field, but the Tigers' center fielder lost the ball in the lights and Unity Christian was credited with a scratch double.
"Just a lazy fly ball and nobody knew he didn't have it just because he was right where it was going to fall. But that's the way it goes," said Trinity Christian coach Mike De Jager.
With the winning run on base, the Knights elected to try and bunt the runner over to third base. The bunt instead went right to a Tigers' fielder, who elected to throw the ball to third base. The runner was ruled safe on a late tag and Unity Christian had runners on first and third with no outs. Trinity Christian elected to intentionally walk the next batter to load the bases and have the option for a force play at the plate. However, the next batter fouled off four pitches, before working the count full and forcing a walk to drive in the game-winning run for the Knights.
Despite having to take a tough loss, De Jager was pleased with his team's performance.
"The kids were pretty down just because they lost, and I can understand that with the emotions in the heat of the moment. But to be honest, I was so proud of them," he said. "The way they hit the ball, they way they responded and the way they came back. Were there some plays defensively we should have made? Yes there were, but you're going to have that in every game."
Leading the bats was Andrew De Boer with a 3-for-4 performance with one run and three RBIs. Ethan Van Bemmel went 2-for-5 with one run and one RBI. Caden Vis went 2-for-3 with one double, one run and two RBIs. Dawson Vis went 2-for-2 with one hit being a double, one run and one RBI. Byron Maaseen had one hit and scored twice.
"Offense was kind of our nemesis last year. Outside of Colin Heynen, nobody did much last year," coach De Jager said. "This year it seems like there are different guys stepping up."
The starting pitcher for the Tigers was Jerron Van Egdom with four innings pitched, four hits, three runs of which two were earned, three walks and four strikeouts. Traiton Cleveringa went the final three innings in relief and was hit with the loss. He gave up seven hits, five runs of which three were earned, three walks and two strikeouts.
"Our two freshman pitchers pitched their hearts out. Did we have some lead-off walks that led to runs? Yes we did and they know that's what I do not like, but they battled and they attacked the zone for the most part," De Jager said. "Unity, give them credit, they hit the ball hard too."
Six miscues on defense downs TC
Hartley-Melvin-Sanborn1-6-0-0-0-0-18
Trinity Christian1-0-2-0-3-0-06
HULL-Six errors cost Trinity Christian as it lost 8-6 to Hartley-Melvin-Sanborn in War Eagle Conference baseball Friday, June 2 in Hull.
"Six errors in a game will do it to you," Trinity Christian coach Mike De Jager said. "So the defense kind of let us down again. Small plays make a big difference."
Hitting continues to be a strong suit for the Tigers. Byron Maassen went 2-for-4 with two runs scored, a double and two RBIs. Logan Cleveringa was 2-for-4 with two runs scored including a double. Ethan Heynen went 1-for-4 with three RBIs. Ethan Van Bemmel was 1-for-3, scored twice and walked.
"All year we have been hitting the ball pretty solid one through nine," said coach DeJager. "Tonight, it was the top of the order coming through, bottom didn't really have that great of a game. Byron, Logan and Andrew (DeBoer) are our three juniors and they are hitting the ball really well. Our two Ethans (Heynen and Van Bemmel), are sophomores and they continued that tonight. The guys are hitting the ball. Offensively we're doing well. Even our outs are pretty hard hit. Tonight we had a few too many strikeouts in the bottom of the lineup."
De Boer was on the mound for Trinity Christian. He allowed nine hits, eight runs, three earned runs, two walks and four strikeouts.
"When you throw 102 pitches, throw 75 strikes and 27 balls, I was pleased," De Jager said. "When your defense is making six errors behind you and you still hold us in the game, that's quite an accomplishment. Andrew has just been a horse for us this year. He has pitched phenomenally. He's not an overpowering pitcher by any means, he just locates his fastball really well and he's got a decent changeup. So you just got to keep the batters off balance, get them to hit it in to the ground and we just got to make the plays behind him."