Tressa Bloemendaal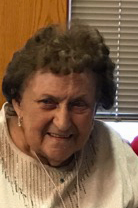 86
Doon, Iowa
December 28, 2019
Tressa Bloemendaal, 86, of Doon, Iowa, died Saturday, Dec. 28, 2019, at Whispering Heights in Rock Valley, Iowa. 
Memorial services were Monday, Jan. 6, at Doon United Reformed Church with interment in Hillside Cemetery, Doon.
Tressa Otten was born Nov. 6, 1933, near Doon to John Jr. and Cora (De Boer) Otten. She attended Doon Christian School and, after graduating from Western Christian High School, worked at a bakery in Rock Rapids, Iowa.
On March 7, 1952, she married Nick Bloemendaal. They lived south of Doon. In her 50s, she took a CNA class and began working as a CNA. After her husband passed away in 2016, she moved to Whispering Heights in Rock Valley. 
Survivors include four children, Cheryl (Bob) Weerheim of Harrisburg, South Dakota, Cliff (Kathy) Bloemendaal of Mendon, Missouri, Darla (Gail) Van Berkum of Doon, Darrell (Dorri) Bloemendaal of Hull, Iowa, and Rick Bloemendaal of Rock Valley; 18 grandchildren; 26 great-grandchildren; daughter-in-law, Gwen (Jamie) Van Voorst of Hull, and brother-in-law, Elmer Van Den Top of Rock Valley.
She was preceded in death by her husband; son, Norwyn; parents; sister, Hester (Bill) Niemeyer, and brothers- and sisters-in-law, William (Hilda) Bloemendaal, Eilert (Pearl) Bloemendaal, Jennie (Cornelius) Klarenbeek, Fannie (the Rev. John) Riemersma, Margart (Bill) Roghair, Peter (Jennie) Bloemendaal and Grace Van Den Top.