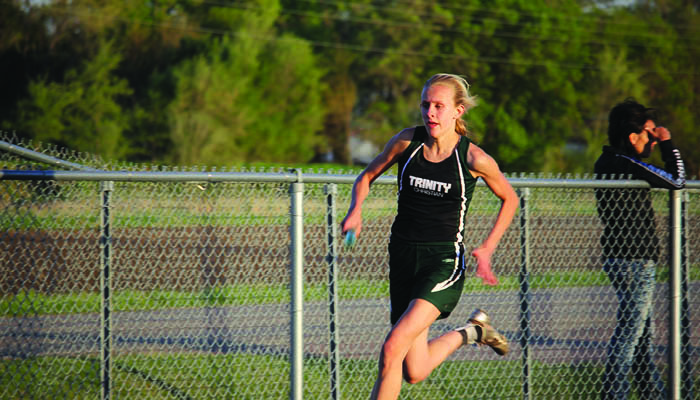 HAWARDEN-The Trinity Christian girls' and boys' track team has seen steady improvement in its athletes throughout the season. Two of them were rewarded for their improvements with a state berth following the Class 1A state-qualifying meet in Hawarden Friday.
The two state qualifiers were Alyssa Uittenbogaard in the 200-meter dash and Sam Laning in the 400-meter dash. Uittenbogaard placed second in the 200 behind Brooke Harpenau of LeMars Gehlen Catholic after beating her in the 200 a week ago on the same track during the West Sioux Invitational.
"In that race she was running neck-and-neck with that Harpenau girl, whom she beat last week Thursday, and Harpenau beat her last night," said Tigers' coach Kassandra Heynen. "So they've been racing well against each other all year and it was a little disappointing at the meet last night after beating her a week before. But we were excited and hopeful for her time."
Once the times were released by the state mid-Friday afternoon, Uittenbogaard was pleased to see her time of 27.44 seconds was good enough.
"It was an emotional day today. She didn't qualify last year, but she still went to the meet and we were hopeful she would be able to go (this year). We're really excited," Heynen said. "She's been really successful all year in that race and it's really nice to see her hard work pay off."
Heynen hopes Uittenbogaard can perform well.
"Looking at the times, and so forth, you hope to get to the finals but you never know what the race is going to hold. So our hope is that she does make it past preliminaries and into the finals," Heynen said.
Laning was a state qualifier in the 800-meter run a season ago. But he did not have the type of performance he was looking for in that event Thursday night, placing fourth with a time of 2:10. However, Laning had one last chance to qualify in the 400 and he was able to post a second-place finish and a top-24 time of 53.65 seconds.
"It's kind of funny. Last year he won the 800 and he's been doing well in that all year. But he had an off night (in that event) last night."
Heynen was pleased Laning was able to qualify for the 400.
"He's worked hard all year and I'm really excited for him. It's kind of fun for him to qualify for a different event than what he was in last year. It's been a neat thing to see him grow throughout the year in the 400," she said.
"I was really happy. We had a lot of personal records last night and that's what you hope to see at the end of the year. It makes the kids hopeful and excited for next year," Heynen said. "It's just really fun. We had some kids medal, we saw everyone improve throughout the year and the excitement of state keeps them motivated to keep working hard."
Class 1A state qualifying in Hawarden
Girls' team results:1. Hartley-Melvin-Sanborn 123, 2. Central Lyon 116, 3. LeMars Gehlen 93, 4. Lawton-Bronson 78, 5. Akron-Westfield 69, 6. Marcus-Meriden-Cleghorn/Remsen Union 56, 7. West Sioux 46, 8. Siouxland Community Christian 38, 9. Remsen-St. Mary's 31, 10. George-Little Rock 24, 11. Trinity Christian 24, 12. South O'Brien 23, 13. Westwood 16
Boys' team results:1. Central Lyon 160, 2. LeMars Gehlen Catholic 94, 3. Lawton-Bronson 86, 4. George-Little Rock 72, 5. Akron-Westfield 61, 6. West Sioux 59, 7. Hartley-Melvin-Sanborn 51, 8. South O'Brien 46, 9. Remsen-St. Mary's 28, 10. Trinity Christian 24, 11. Marcus-Meriden-Cleghorn/Remsen-Union 21, 12. Westwood 14, 13. Harris-Lake Park 13, 14. Siouxland Community Christian 11
Individual results
Girls' 100-meter dash:5. Hannah Baker 13.39 seconds
Girls' 200-meter dash:5. Hannah Baker 28.22 seconds
Girls' 400-meter dash:2. Alyssa Uittenbogaard 27.44 seconds STATE QUALIFIER
Boys' 100-meter dash:5. Joel Baker 11.8 seconds
Boys' 400-meter dash:2. Sam Laning 53.65 seconds STATE QUALIFIER
Boys' 800-meter run:4. Sam Laning 2:10