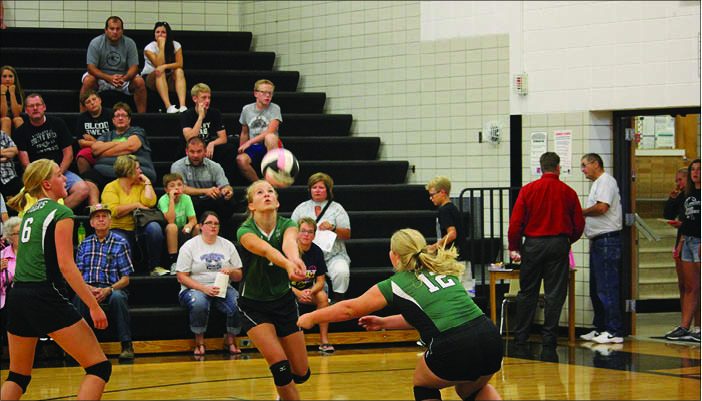 Trinity Christian20-25-25-19-173
South O'Brien25-22-22-25-152
PAULLINA-South O'Brien had the edge in experience over Trinity Christian in a War Eagle Conference volleyball match Tuesday, Aug. 29, but the Tigers were able to find a way to win 20-25, 25-22, 25-22, 19-25, 17-15 and start the 2017 season 1-0.
The Wolverines came into the match with two contests already under their belts with a two-set defeat to Spencer and a two-set victory over Okoboji at the Spencer tournament Aug. 24. Coach Jon Mooy said that played a factor in South O'Brien taking the first set.
"It was the first match of the year and we haven't had any scrimmages or anything like that prior to this, while South O'Brien had a few games under their belt already," Mooy said. "For us, we just had to get our feet going and get into the speed of the game. It is a lot different speed in a live match like that than in practice, mostly because we don't have enough girls to practice at that type of speed."
Trinity Christian, however, did not take long to adjust to the live match speed and took games two and three for a 2-1 advantage in the match.
"I think once we got into the flow of the game and once we knew they were not that much better than us, we started to create things for ourselves," Mooy said.
South O'Brien came back to tie the match in set four, forcing a deciding game five. The Tigers were able to jump on the Wolverines and have five chances at match points, but South O'Brien rallied back to take a 15-14 lead in the set.
"We got stuck in a certain rotation where we couldn't pass the ball and we just weren't mentally tough at that point," Mooy said. "Kudos to South O'Brien for making a run to come back, but that was still disappointing on our side."
Trinity Christian was able to get a side-out for serve and rotate one of its top hitters, Shayna De Roon, to the front court to take the 17-15 set and the match.
"We responded well. We were able to get Shayna De Roon to the front court and I think that turned out to be the biggest difference for us," Mooy said.
De Roon ended the match as the offensive leader with 14 kills. Alyssa Uittenbogaard had eight and Alyssa Maassen had six. Caitlin Van Engen dished out 29 assists. Ashley Van Egdom chipped in with three assists.
Defensively, Kalie Andringa got in on 18 digs, De Roon had seven, Van Engen had six, Cassidy Eppinga had five and Uittenbogaard had four. Overall Trinity Christian had 41 digs .
"That was one of the positive things. The girls played pretty well in the back row. We were able to push the ball up a little bit further to our setter (Van Engen) and give our hitters an opportunity," Mooy said
What the Tigers will be working on before next week is the service line. Trinity Christian had a 79.8 serving percentage with 12 aces. Individually, Van Engen went 18-for-18 from the stripe with two aces. Van Egdom went 20-for-27 with four aces, Uittenbogaard 13-for-14 with one ace, De Roon 13-for-17 with three aces, Andringa 13-for-16 with two aces and Maassen 6-of-7 with no aces.
"A lot of serving errors to begin the season. We were serving too long or we had balls go right into the net. We just have to concentrate and take the time to put the ball in play," Mooy said.
In the end, this match was not technically how Mooy wanted to start the season but said he is pleased to get the win either way.
"We don't want too many of those close matches or else I'll end up with a heart attack," Mooy said, "but I'm very pleased. We've got a rough stretch of tough games coming up, so it was nice to get that first one under our belts."
Trinity Christian has two games this week against Class 1A fifth-ranked LeMars Gehlen Catholic Tuesday, Sept. 5, and Class 2A fifth-ranked Unity Christian Thursday, Sept. 7.