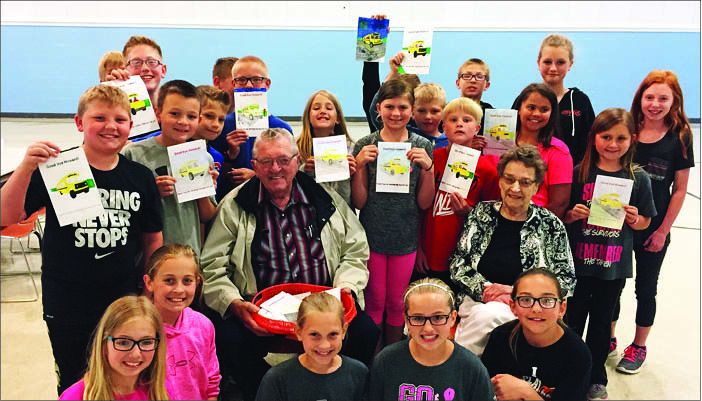 After driving a school bus route 30 years, Howard Grevengoed decided this year would be his last.
So Hull Protestant Reformed Christian School recognized his years of service with an open house last Tuesday afternoon.
Even though only two of those years were spent driving a Hull Protestant Reformed Christian School bus, school leaders appreciate what the 80-year-old Grevengoed has done.
"We are very grateful that Howard was willing to help us out when we were starting a bus service for our school," stated school principal Loren Gritters. "At that time we really didn't have any bus drivers and they were hard to find. He was very dependable and caring and helped us train other bus drivers. He gave of his time and even drove the bus to testing sites for potential drivers. We started from scratch and he helped us put together a successful bussing program.
"Of course the kids love him," he added. "We wish the Lord's blessing on him."
Grevengoed was happy to help the school but decided to quit after he turned 80.
"Enough is enough," he said with a laugh. "I'll still sub and help out but I won't miss getting up at 5:30 in the morning and the bad weather you sometimes have to drive in. I'm looking forward to slowing down and traveling to visit family members."
Grevengoed began driving bus for Hull Christian School when he was hired as the school's custodian. Bus driver was part of the job responsibilities. Ten years later, he left the custodian job but kept driving.
"I really enjoyed driving a school bus. You better love kids and like to be with kids or don't bother to get in the bus," he explained. "Some days it takes a lot of patience."
His opinion of kids hasn't changed over 30 years. "They're just as good today as they were 30 years ago," he stated.
During those years he became known as the "candy man" because of the treats he handed out to his riders.
"I learned that from Ed Scholten. He always gave the kids Juicy Fruit gum," Grevengoed explained. "I started buying Tootsie Rolls. If a kid is having a bad day, a piece of candy would sweeten them up a little."
Riders got an extra treat on Grevengoed's birthday and the last day of school, when he passed out candy bars.
His bus routes for Hull Christian, Western and Hull Protestant Reformed Christian School stayed in the Boyden and Sheldon areas so Grevengoed became very familiar with students and families living around those towns.
"I'm very thankful that the Lord was with me every mile with those kids," he stated. "I didn't have any accidents or tickets in 30 years."
But that doesn't mean he didn't face any challenges. One winter day, school got out early because of a snowstorm. As he was taking kids home, Grevengoed's bus got stuck in a snowdrift.
"I saw Art Diekever's farm a little ways away, so I walked to it and asked if I could bring the kids into the house," he recalled. "Then I walked back to the bus and led the 15 kids back to the farm. That was before cell phones or bus radios, so I called back to Western and they sent another bus out to take the kids home."
Even though last Wednesday was his last day on the school route, Grevengoed will be back in the bus in June. He'll work for Boyden-Hull and drive kids to summer rec ball games.
"My wife, Marilyn, and I both love to watch ball games. So she rides on the bus with me," said Grevengoed. "We bring our lawn chairs along, enjoy the game and then drive kids back to Hull. We enjoy it."