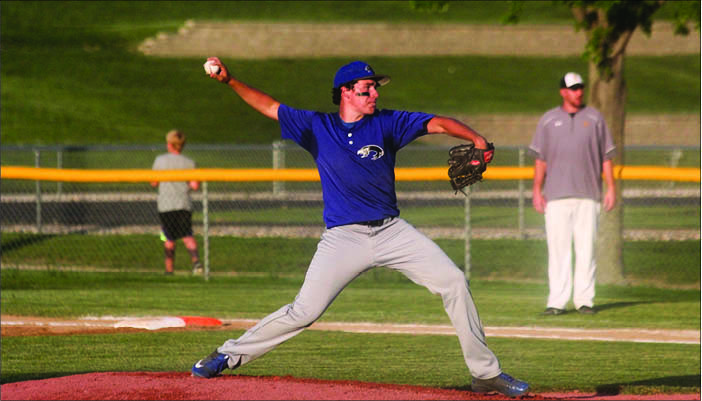 George-Little Rock0-0-0-0-0-0-00
Boyden-Hull/Rock Valley1-0-1-1-3-3-X9
ROCK VALLEY-Three runs in the fifth and sixth innings helped propel the Boyden-Hull/Rock Valley baseball team to a win over George-Little Rock 9-0 in Rock Valley for Siouxland Conference baseball last Wednesday as the bats continued to roll.
The Nighthawks got on the board quickly with single runs in the first, third and fourth frames. Boyden-Hull/Rock Valley then broke the game open with three in the sixth and three in the seventh.
Shane Solberg and Jackson Mulder led the offense. Solberg went 2-for-4 with a double, three runs scored, one RBI and three stolen bases. Mulder was a perfect 3-for-3, including two doubles, two runs, an RBI, a walk and a stolen base. Brett Moser also had a big hit in the fifth with a bases-clearing double.
"Shane starts it off for us. He does really well, he's pretty consistent and he gets on base for us. Jackson had a really good night," said Boyden-Hull/Rock Valley coach Doug Bundy. "We struggled a little bit early. We left guys in scoring position in the first four innings. In the fifth and sixth innings we got some timely hits. Our top of the line-up is doing pretty well. We need our younger guys to get more pitches and varsity looks and they'll come around."
Zach Nobel pitched six innings, walked four and had 10 strikeouts. Seth Rozeboom came in to finish the game in the seventh. He allowed one hit, one walk and had two strikeouts in one inning.
"Zach pitched a strong game," said Bundy. "Struggled in the third inning with two walks, but settled down. He did pitch a no-hitter through six innings. I was going to keep him in for the seventh, but he sat a long time in the bottom of the sixth. His pitch count was also pretty high."
Bundy said the Nighthawks can stay competitive as long as they stay consistent.
"LeMars did beat us pretty bad, but we didn't roll over," said Bundy. "We kept battling. We just have to limit our mistakes, throw strikes and make the plays we're supposed to make and we'll be competitive in every game."
Mitchell Diekevers throws a gem in 5-2 victory
Nathan Broek | Sports Editor
nbroek@ncppub.com
Boyden-Hull/Rock Valley0-0-1-2-1-1-05
Emmetsburg0-0-0-2-0-0-02
EMMETSBURG-The offense for Boyden-Hull/Rock Valley has yet to fully get into a groove, but Mitchell Diekevers made the Nighthawks' five runs stand as he notched a career-high 12 strikeouts in a 5-2 non-conference baseball victory Friday, June 2.
Diekevers threw a complete game, only gave up four hits, two runs that were both earned on a two-run home run by the E-Hawks in the bottom of the fourth inning, one walk and three hit batters on top of his 12 strikeouts.
"He just hit his spots. He was a pitcher tonight," said Boyden-Hull/Rock Valley coach Doug Bundy. "He just didn't throw, he pitched. He hit his spots and he went after batters. He didn't mess around. He'd get ahead in the count and he'd go right after them."
On offense, the Nighthawks scored one in the third, two in the fourth, one in the fifth and one in the sixth to account for their five runs. Leading the way individually was Brett Moser going 2-for-4 with one run and one RBI. Trey Huyser had one hit and two RBIs. Jackson Mulder had one hit, that being a double, one run and one RBI. Shane Solberg had one hit, one run and one RBI. Zach Noble had one hit and one run.
"We did okay (offensively). We haven't had that big inning yet where we string hits together. We'll score a run, and maybe get a couple (runs) here or there," Bundy said. "But on the bad side of things we had a couple of base running mistakes tonight that probably took us out of a couple big innings. We've got to clean that up, which we will, but we can't have those kind of mistakes."