Minnie Wallenburg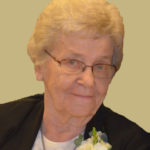 82
Rock Valley, Iowa
December 12, 2019
Minnie Wallenburg, 82, of Rock Valley, Iowa, died Thursday, Dec. 12, 2019, at Whispering Heights in Rock Valley. 
Funeral service was Monday, Dec. 16, at United Reformed Church, Rock Valley, with interment in Valley View Cemetery, Rock Valley
Minnie Ymker was born March 17, 1937, in Stickney, South Dakota, the daughter of Lambert and Hattie (Bosch) Ymker. 
On Sept. 30, 1955, she married A. Richard Wallenburg. The couple made their home in Rock Valley. She was a bus driver for Rock Valley Community School and worked several years at Walmart. 
Survivors include her children, Rhonda (Wes) Pollema of Rock Valley, Ron Wallenburg of Hawarden, Iowa, Kathy (Ponch) Hulstein of Rock Valley, Brad (Donna) Wallenburg of Hull, Iowa, and Shar (Lyle) Van Holland of Rock Valley; 12 grandchildren; 11 great-grandchildren; sister, Bertha Van De Vendel of Brandon, South Dakota; sisters-in-law, Bernice Ymker of Sioux Falls, South Dakota, and Lucy Ymker and Chris Kersbergen, both of Rock Valley, and brother-in-law, Al Van Beek of Artesia, California. 
She was preceded in death by her parents; her husband; an infant brother; brothers, John, Elmer and Fred Ymker; brother-in-law, Cornie Van De Vendel, and sister-in-law, Joanne Ymker.