Marlys Rowenhorst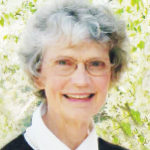 83
Orange City, Iowa
Sept. 21, 2019
Marlys Rowenhorst, 83, of Orange City, Iowa, passed away Saturday, Sept. 21, 2019, at Prairie Ridge Care Center in Orange City.
Memorial services were Wednesday, Sept. 25, at First Reformed Church, Orange City, with interment in West Lawn Cemetery, Orange City. 
Marlys Mae Bolks was born July 7, 1936, in Hull, Iowa, daughter of Harold and Augusta (De Boer) Bolks. She grew up in Hull and graduated from Hull Public High School.
On July 16, 1954, she married Willard Rowenhorst. They lived in Darmstadt, Germany, two years where her husband was stationed with the U.S. Army. Following his discharge, they lived in Sioux City three years, then moved to Orange City in 1959. She was a seamstress for the Tulip Court Committee and Tulip Festival Night Shows. She began her career as a travel agent for Klay Travel before establishing Siouxland Travel Bureau in 1980, retiring in 2005. Her husband passed away Aug. 22, 2010. She then lived at Landsmeer Ridge Retirement Community until she became a resident of Prairie Ridge Care Center in 2015.
Survivors include her daughters, Roma (Bob) Visser of Sioux Falls, South Dakota, and Tami (Marty) Guthmiller of Orange City; five grandchildren; seven great-grandchildren; a sister, Evelyn Jones; two brothers, Harvey (Annabel) Bolks and Lauren (Hester) Bolks; a sister-in-law, Marie Rowenhorst, and a brother-in-law, Don (Sylvia) Rowenhorst.
In addition to her parents and husband, she was preceded in death by her parents-in-law, Henry and Kathryn Rowenhorst; a granddaughter and a brother-in-law, Merlyn Rowenhorst.