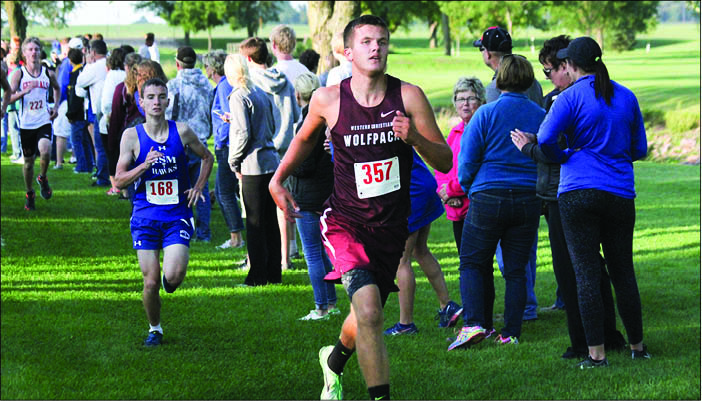 SIBLEY-The Sibley-Ocheyedan Invitational at Sibley Golf and Country Club Tuesday, Sept. 5, was the second meet of the 2017 cross-county season for Western Christian, Boyden-Hull/Rock Valley and Trinity Christian. Both Western Christian teams finished third in team standings, Lizzy Blum of Boyden-Hull/Rock Valley won her first individual meet title of the season while Trinity Christian continues to build momentum for the end of the year.
The Wolfpack girls, who are now ranked 12th in Class 2A, finished third in a four-team race, scoring 52 points. West Lyon was the meet champion with 46 points. Leading the way for Western Christian was Whitney Minderhoud taking fifth place, Sydney Stiemsma with a ninth-place finish and Mary Kate Postma with a 14th-place spot. Rounding out the varsity lineup was Rachel Heynen in 26th and Braelyn Kamstra in 32nd.
"Our girls ran a good race tonight. The front three girls really did a great job of keying off of each other the whole race," said Wolfpack coach Dalton Lems. "Whitney had a great kick at the end to move into the top-five. All five of the varsity girls came out and competed well. I am looking forward to seeing how they continue to improve and get better in the next week before our next meet (Thursday, Sept. 14 at Sioux Falls)."
Despite not having a full team, the Boyden-Hull/Rock Valley girls continued to run well as Blum took her first individual title this year, running at 20:44.
"I thought Lizzy got out and really ran a smart race. I could tell Lizzy just wanted to run with somebody, but she had that West Lyon girl (Karie Klingensmith) and even that South O'Brien girl (Abby Boardman) right with her," said Boyden-Hull/Rock Valley coach Tim Brunsting. "I was just kind of waiting for the moment where Lizzy would kind of break away. It was at about the half-mile mark where she broke away and ended up winning by 25 or 30 seconds there. It was good to see her finish strong and not hold back."
Coming right behind Blum was teammate, Emily DeRuyter, in eighth.
"It was a nice meet for Lizzy and for Emily. We talked right before they went out and ran and the challenge last night was to finish in the top-10. At Okoboji we said top-20, so we stepped up the goals a little bit and said let's shoot for a top-10," Brunsting said.
The two Trinity Christian female runners, Brooke Van Engen and Ashley Van Engen, showed improvement from the first meet at Okoboji Thursday, Aug. 31. Brooke took 31st and Heather took 36th.
"Obviously with a flatter course their times are going to be faster. But they improved from last Thursday and I thought they did really well," said Tigers' coach Dillon Brummel. "They worked together and that's what I told them before the race. This is the second race (of the season) and you want to improve from the first one."
On the boys' side, Western Christian was in an 11-team race and also finished third with 71 points. Class 2A second-ranked George-Little Rock/Central Lyon took the meet title with 44 points, with Class 2A 12th-ranked Sioux Center taking second place with 61 points.
Leading the Wolfpack individually was Zach Elbers with a third-place spot behind Class 2A second-ranked Gable Sieperda and Class 2A fifth-ranked Joe Anderson. Both runners are from George-Little Rock/Central Lyon. Jon Veldman took 11th for Western Christian with Jeff DeKam taking 19th and Michael Van Den Top claiming 20th.
"Our guys had a great early-season test tonight. They ran well against some of the best competition in the state," Lems said. "Zach did a nice job of getting with the front pack and sticking with them, racing all the way to the end. Jon, Jeff and Michael also ran a nice race tonight, moving up well."
Rounding out the Wolfpack varsity lineup were Andrew Cox in 26th, David Hofman in 49th and Clay Van Tol in 57th.
"All seven of the guys tonight left it all out there, which is what we wanted to see tonight," Lems said.
The Boyden-Hull/Rock Valley boys ended the night in fifth place as a team with 148 points.
"It was kind of where I thought we would be. Again, I think the youth of our team kind of plays into this as we are trying to figure some things out yet," coach Brunsting said.
The Nighthawks were led by Marco Lopez with a 14th-place finish.
"Marco had another nice race, really ran well, looked really good and really strong," Brunsting said.
Dayton Brunsting took 32nd, Kayden Top took 36th, Caleb Westra took 39th, Ian Van Grootheest 43rd, Logan Moore 44th and Marcus Kelderman 46th.
"I really thought from Thursday night to last night Dayton really ran well. He looked a lot stronger and kept picking people off. That kind of pulls everybody else along," coach Brunsting said. "Now we need to close that gap between Marco and the rest of our field. If we can get Dayton into the low-20s, everybody else will move up because we really had a nice pack in there."
The Trinity Christian boys claimed seventh place with 175 points.
"I thought we did really well for ourselves. I thought we were better than last Thursday even," coach Brummel said. "There is a lot of good competition around this area, especially this year. I thought we did really well. We've just got to keep improving."
Sam Laning led the Tigers once again with a 24th-place finish. Caleb Meyer took 25th with Dallas Van Ginkel claiming the 33rd spot.
"He (Caleb Meyer) is off to a good start this year. I told him to not be afraid to be right behind Sam. That'll keep them both moving up in the pack. It's just stuff like that that will make the team faster all the way around," coach Brummel said. "Then for Dallas that was really nice to see too. He didn't really have his best race last Thursday. He felt much better and it was good to see that kind of result."
The final three Trinity Christian runners were Braxton Brummel in 55th, Thomas Brummel in 59th and Luke Andringa in 65th.
"I've been telling my guys, especially Thomas and Luke to just keep closing that gap. In order for us to keep improving, that gap needs to close in order to get higher (team) finishes," coach Brummel noted. "From Thursday to Tuesday, I thought we did a really good job of closing that gap a little bit, but it definitely needs to close a little bit more yet."
Sibley-Ocheyedan cross-country invitational at Sibley Golf and Country Club
Girls' team results:1. West Lyon 46, 2. Alta-Aurelia 50, 3. Western Christian 52, 4. South O'Brien 72
Individual girls' results:1. Lizzy Blum (BHRV) 20:44, 5. Whitney Minderhoud (WC) 21:22, 6. Emily DeRuyter (BHRV) 21:23, 9. Sydney Stiemsma (WC) 21:28, 14. Mary Kate Postma (WC) 21:47, 26. Rachel Heynen (WC) 23:23, 31. Brooke Van Engen (TC) 24:21, 32. Braelyn Kamstra (WC) 24:37, 36. Heather Van Engen (TC) 26:15
Boys' team results: 1. George-Little Rock/Central Lyon 44, 2. Sioux Center 61, 3. Western Christian 71, 4. Sheldon 125, 5. Boyden-Hull/Rock Valley 148, 6. Sibley-Ocheyedan 153, 7. Trinity Christian 175, 8. South O'Brien 228, 9. Hartley-Melvin-Sanborn 231, 10. Alta-Aurelia 232, 11. Hinton 282
Individual boys' results:3. Zach Elbers (WC) 16:59, 11. Jonathan Veldman (WC) 17:15, 14. Marco Lopez (BHRV) 17:31, 14. Jeff De Kam (WC) 17:47, 20. Michael Van Den Top (WC) 17:50, 24. Sam Laning (TC) 18:03, 25. Caleb Meyer (TC) 18:10, 26. Andrew Cox (WC) 18:10, 32. Dalton Brunsting (BHRV) 18:34, 35. Dallas Van Ginkel (TC) 18:36, 36. Kayden Top (BHRV) 18:46, 39. Caleb Westra (BHRV) 18:48, 43. Ian Van Groothest (BHRV) 18:58, 46. Marcus Kelderman (BHRV) 19:07, 49. David Hofman (WC) 19:11, 55. Braxton Brummel (TC) 19:39, 57. Clay Van Tol (WC) 19:54, 59. Thomas Brummel (TC) 19:59, 65. Luke Andringa (TC) 20:14