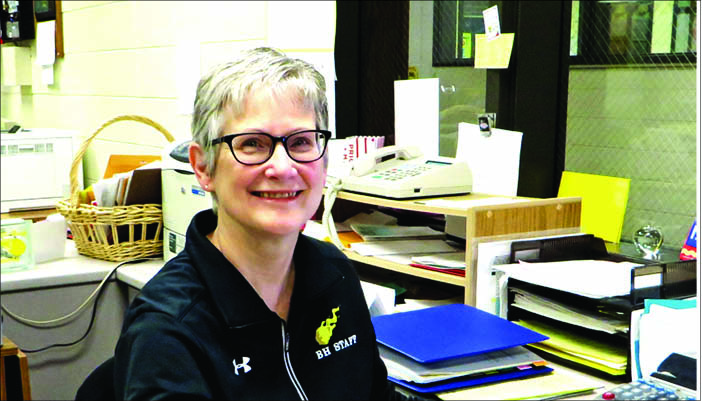 Laura Van Meeteren has spent 55 years at the Boyden-Hull School — 13 as a student and 42 as an employee. "I guess I can say that all my education has come from Boyden-Hull in one way or another," she said with a smile.
For the last 41 years she has served as the administrative assistant in the elementary school; communicating with, organizing, planning and coordinating students, teachers, parents and administration.
So, when she announced she would retire at the end of the school year, Tom Kerr, Boyden-Hull Elementary School Principal, knew that replacing Van Meeteren would be an enormous challenge.
"Laura is the very friendly face of Boyden-Hull Elementary," he stated. "She knows so many of the families and what needs to get done during the school year. She has made a lot of people's jobs easier, including teachers and administration. She has impacted several generations of students, their families and teachers. She will be missed."
To help her replacement, Van Meeteren has been putting together a month-by-month list of duties and responsibilities. "For the first time in my life, I'm writing a book," she laughed.
"I never thought I would retire this early," admitted the 62-year-old. "But this year I felt in my heart that it was time."
She hopes to spend more time with her grandchildren and her parents. And, her husband, Dwayne, is also retiring in June.
Van Meeteren grew up on a farm near Boyden, the daughter of John and Leola Humme, and graduated from Boyden-Hull in 1973. For two years after graduation, she worked in Sheldon.
"Then, I was golfing at Otter Valley and Vince Huls, the Boyden-Hull Elementary principal, asked me if I would like to be the librarian at the school," she recalled. "I held that job for one year and then Sheryl Tiedeman, the school secretary, left and Vince asked me if I'd like that job."
Her workspace then was a lot different than today.
"Vince and I shared an office and one phone. All of our school supplies were in one closet and we had one mimeograph," she said. "Today the school has more than 40 phones, plus computers, copiers and much more."
Van Meeteren's office has been relocated three times during the various building projects at the school.
But staying at the elementary school 40 years wasn't her intention back in the 1970s.
"I thought I would quit work when we had kids," Van Meeteren explained. "But Amanda was born in 1980 during the farming crisis. Dwayne was working for the co-op and we just weren't sure about the future."
During Van Meeteren's five-week maternity leave, a former school secretary, Kathy Baartman, filled in.Then she offered to babysit for the family. Baartman did the same thing three years later when Van Meeteren's son, Craig, was born.
"Having Kathy be my sub and then my babysitter worked out really well, so I stayed," said Van Meeteren.
And her job changed and developed along with the school.
"Vince taught me the day-to-day running of a school and Craig Anderson taught me about computers," she said. "Craig designed our payroll and inventory programs. They both were very good teachers."
She also became involved in school bussing, registration and nursing.
"Our nurse comes in at 8:30 in the morning, so I'm the nurse until that time," she explained. "Bussing is more complicated today with special routes for preschool and TK. And registration is an important occasion. I get to put faces with families."
A sizeable part of her day is spent on communication. In the morning, Van Meeteren answers phone calls and emails for a couple hours.
"Kids are sick more than they were 40 years ago and that means more phone calls. And they're a lot busier, too," she said. "The end of the day is a zoo, with phone calls from parents and notes for bus drivers about where kids should be dropped off. Getting the correct messages to kids is very important."
Even though she's ready for retirement, Van Meeteren knows she'll miss her job.
"I'll miss the activity of the kids and the day-to-day friendships with my co-workers," she said. "But I know I'll still run into adults I watched grow up in the elementary school. It's fun to see what the kids have done with their lives."