Larry Kruse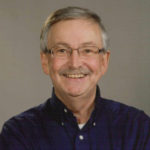 69
Boyden, Iowa
August 19, 2019
Larry Kruse, 69, of Boyden, Iowa, died of glioblastoma Monday, Aug. 19, 2019, at Sanford Hospital in Sioux Falls, South Dakota.
Funeral services were Saturday, Aug. 24, at St. John Lutheran Church, Boyden, with interment in the church cemetery.
Larry Dean Kruse was born June 22, 1950, in Sibley, Iowa, son of Henry A. and Elsie (Hundt) Kruse. He attended St. John Lutheran School,  from kindergarten through fifth grade and middle and high school in Sheldon, graduating in 1968. He graduated from Worthington Community College in 1970 and attended Northwestern College in Orange City to complete his bachelor's degree in business education.  
On July 10, 1970, he married Sheryl Van Dyk. They made their home on an acreage near Boyden. He worked Sudenga Industries in George,  becoming a partner in the business in 1976.  He was president and co-owner of Diversified Technologies (parent company of Sudenga Industries and Dur-A-Lift) 41 years.
Survivors include his wife; daughter, Robin (Chuck) Sjogren of Brandon, South Dakota; son, Ryan (Anna) Kruse of Sioux Falls; four grandchildren; brother, Roger (LaDonna) Kruse of Matlock, Iowa; two brothers-in-law, Elmer Winter of Boyden and Lawrence Modder of George; mother-in-law, June Van Dyk of Boyden; brother-in-law, Eldon (Musch) Van Dyk of Boyden; sister-in-law Sandy (Bert) Goeringer of Hull, Iowa, and many nieces, nephews and other extended family.
He was preceded in death by his parents; an infant brother, Donald Kruse, and two sisters, Joanne Winter and Lorna Modder.