Joyce K. Kooiker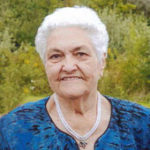 88
Hull, Iowa
December 11, 2019
Joyce Kooiker, 88, of Hull, Iowa, passed away Wednesday, Dec. 11, 2019, at her residence. 
Memorial service was Monday, Dec. 16, at Hull Protestant Reformed Church with intermentin Hope Cemetery, Hull. 
Joyce Kathrene Mulder was born Nov. 20, 1931, near Doon, Iowa, the daughter of Joe and Kate (Otten) Mulder. She attended Doon Christian School and graduated from Western Christian High School in Hull. 
On Nov. 22, 1949, she married William Kooiker. They lived near Boyden, Iowa, until 1954 they established a farm near Hull. In February 1997, the family moved into Hull. Her husband passed away in March 1999. 
Survivors include six children, Karla (Doug) Kats, Ken Kooiker, Aletha (David) Groeneweg, Lyle (Pam) Kooiker, Nick (Janet) Kooiker and Tricia Driesen; 20 grandchildren and 27 great-grandchildren. 
She was preceded in death by her parents; her husband; son, Wayne, and siblings, Annetta Van Tol, John Mulder, Thelma Dykstra, Edwin Mulder, Edna O'Brien and Richard "Bud" Mulder.