Jacob Koob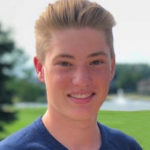 17
Granville, Iowa
July 25, 2019
Jacob Koob, 17, of Granville, Iowa, passed away Thursday, July 25, 2019, at Orange City Area Health System from injuries sustained in a motor vehicle accident.
Funeral mass was Tuesday, July 30, at St. Joseph's Catholic Church, Granville, with interment in the church cemetery. 
Jacob Daniel was born Feb. 9, 2002, in Mason City, Iowa, the son of Aaron Lee and Amy Beth (Reuvers) Koob. When he was a young child, he moved with his family to a farm near Granville. He attended Spalding Catholic School in Granville, Gehlen Catholic School in Le Mars and South O'Brien High School in Paullina.
Survivors include his parents; a sister, Bryleigh Koob; two brothers, Ashton Koob and Jayce Koob, all of Granville; grandparents, Dennis and Kay Koob of Granville and Jerry and Mary Beth Reuvers of Orange City, Iowa; three great-grandmothers, Frances Koob of Orange City, Agnes Konz  of Alton, Iowa, and Helen Reuvers of Boyden, Iowa; a great-grandfather, the Rev. Donald Lenderink of Orange City; uncles, aunts and numerous cousins.
He was preceded in death by three great-grandfathers, Milo Koob, Francis Konz and Junior Reuvers, and a great-grandmother, Ruth Lenderink.