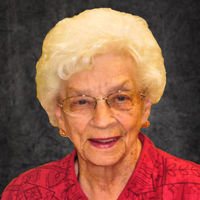 90
Hills, Minnesota
January 24, 2020
Henrietta Boeve, 90, of Hills, Minnesota, died Friday, Jan. 24, 2020, at Tuff Memorial Home in Hills.
Memorial service was Wednesday, Jan. 29, at Steen Reformed Church, Steen, Minnesota, with interment in Eastside Cemetery, Steen.
Henrietta Arlene De Jongh was born Nov. 19, 1929, in Hull, Iowa to Henry and Nellie (Van Surksum) De Jongh. She grew up on a farm near Hull and attended country school. She attended Westmar College to earn a teaching certificate and taught K-eighth grade country school three years.
On Nov. 24, 1950, she married Art Boeve. Upon his return from military service, they lived near Hull. In 1961, they moved to Steen and continued farming. In 2005, they moved to Hills where they lived until she entered Tuff Home in August 2016.
Survivors include her husband; three children, Anita (Gregg) Bosch of Cedar Rapids, Iowa, Glen (Ann) Boeve of Steen and Michelle (Greg) Van Wyhe of Rock Rapids, Iowa; eight grandchildren; 14 great-grandchildren; brother, Vern (Hester) De Jongh of Hull; sisters, Bev (Dave) Wesselink of Newton, Iowa and Diane (Harlyn) Kempema of Rock Valley, Iowa; nieces, nephews and other extended family members.
She was preceded in death by her parents and three sisters, Marian (John) Groeneweg, Norma (Leonard) Risseuw and Verla (Harold) Ten Haken.