Gerald Kroese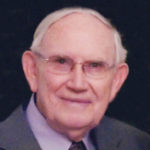 92
Hull, Iowa
June 21, 2019
Gerald Kroese, 92, of Hull, Iowa, passed away Friday, June 21, 2019, at Pleasant Acres Care Center in Hull.
Funeral service was Tuesday, June 25, at First Christian Reformed Church, Hull, with interment in Hope Cemetery, Hull. 
Gerald was born Oct. 27, 1926, in Hull, the son of Ivan and Alberta (Brummel) Kroese. He grew up south of Hull and attended country school. He enlisted in the U.S. Army in 1945. 
On Aug. 30, 1949, he married Hendrene Te Slaa. They farmed east of Sioux Center until 1970, when they moved to a farm north of Hull. In addition to farming, he worked at the Co-op Gas Station in Hull. In 1990, the couple moved to a home in Hull. His wife passed away Nov. 4, 2002.
On May 22, 2004, he married Harriet De Groot Hulstein. The couple made their home in Hull until 2015 when they moved to the Landsmeer Ridge Retirement Community in Orange City. On April 5, 2019, he became a resident of Pleasant Acres Care Center in Hull. 
He served as president of the Northwest REC board and as a board member of Wester Christian High School in Hull. 
Survivors include his wife; two children, Galen (Connie) Kroese and Shari (Jarvis) De Wild of Hull; six grandchildren; five great-grandchildren; two stepchildren, Lynn (Quentin) Hatfield of Germantown, Wisconsin, and Lorna (Bob) Leavitt of Marcus, Iowa; five stepgrandchildren; six stepgreat-grandchildren; two sisters, Jo Ludema of Ann Arbor, Michigan, and Belle (Ken) Draayer of Hull; and two sisters-in-law, Lavonne Kroese of Hull and Agnes Kroese of Grand Rapids, Michigan. 
He was preceded in death by his parents; first wife; three brothers, Albert and his wife, Eleanor Kroese, Hilmore Kroese and Irvin Kroese; and a brother-in-law, Ken Ludema.