Gary D'Agrosa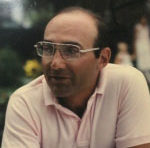 71
Boyden, Iowa
April 4, 2019
Gary P. D'Agrosa, 71, of Boyden, Iowa, passed away Thursday, April 4, 2019, at Sanford Sheldon Senior Care. 
Services will be at 12 noon Friday, May 17, at Crossroads Pavilion Event Center, Sheldon.
Gary Peter D'Agrosa was born June 30, 1947, in New York City, son of Peter and Barbara (Clinco) D'Agrosa. He graduated from Port Jefferson High School and Queens College in New York City. He began his teaching career in Freeport, New York. 
In 1971, he married Esther Stegemann. In 1973, they moved to Boyden where they farmed 18 years. He became a mediator for the state of Iowa during the farm crisis of the 1980s. In 1991, he returned to teaching at Sheldon Middle School, coached boys' basketball, taught driver's education and represented the Sheldon Education Association. He retired from that position in 2007. In the 1990s, he began to drive in auto cross events and worked his way up to be a BMW performance driving instructor.
Survivors include his wife; their daughter, Anna; daughter-in-law, Kristen Shuart; one grandson and siblings, Janet (Aaron) Stegeman, Diane (John) Nesselt and Daniel (Marie) D'Agrosa.
He was preceded in death by his parents.