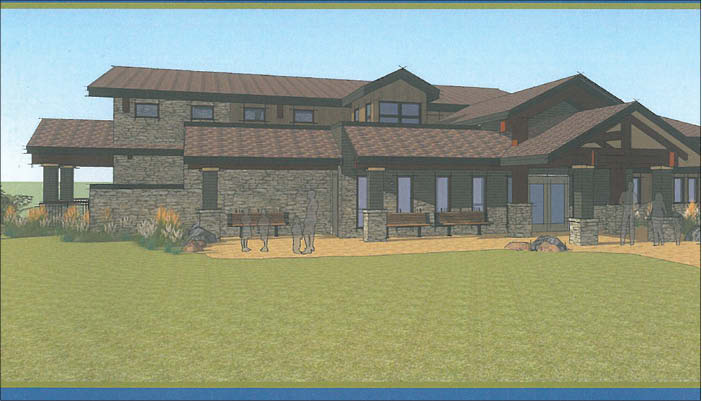 At the BoydenCommunity Club meeting Wednesday, Oct. 11, members learned about a nature center the Sioux County Conservation Board hopes to build at Oak Grove Park.
Cal De Ruyter of Rock Valley, a representative of the Sioux County Conservation Foundation Board, and Sarah Davelaar, Sioux County naturalist, talked about the proposed new building they hope will be built next spring. A total $2.7 million has been raised for the $4.8 million project. Davelaar said they are looking at getting an Enhanced Iowa Grant, but in order to do that, 90 percent of the funds need to be raised privately first.
They want more people from the Hull and Boyden area to become involved with the project. De Ruyter said they'd like to see donations from Hull and Boyden residents and the city governments, if possible.
The park has been a recreational facility for almost 100 years. Supporters would like to develop the park even more for field trips and school groups. In the nature center, the conservation board would like to include displays and hands-on learning tools. The building could also be rented out. The new building will provide two classrooms downstairs, exhibits upstairs, and a meeting room upstairs. It will give them room to take kids inside and have something to do in wet weather. It will also be handicap-accessible so even older people can access it.
Tammy Kamies, city administrator, reminded Boyden Community Club members of the city election on Nov. 7. There will be two councilmen and a mayor elected. For the position of mayor, Jeremy Kruid is running against the current mayor, Laryl Koerselman. For the councilmen, Justin Beukelman and Dale Winter are both running uncontested.
The Boyden Community Club Halloween party will be at the Demco Center Tuesday, Oct. 31, from 5-6:30 p.m. A little help is still needed as are donations of candy. Games will be played, and prizes and candy will be given to the kids.
The Festival of Trees is scheduled for Dec. 4. The committee, Jody Prostrollo, Shari Fedders and Robin Jungers, said they usually have 11-15 trees, but more are always welcome. The theme this year is "Sportin' a Merry Christmas." A donation of $150 is still being sought from a business sponsor for the decorated pot, created by Vicky Lammers, which will be raffled off.
It was noted that a couple large coffee pots at the Demco Center need replacement. The club voted to support this purchase. Nominations for election of officers will be needed at next month's meeting in November. Voting will take place at the December meeting.
The next Boyden Community Club meeting will be Wednesday, Nov. 8.