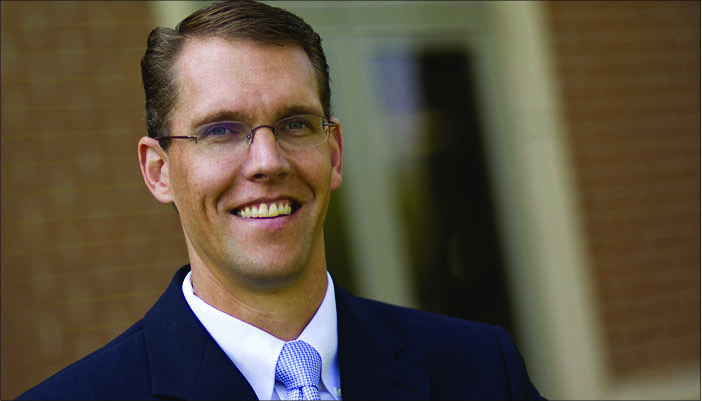 After working as the insurance manager at ISB Insurance in Hull nine years, Randy Feenstra has changed his focus. Instead of being employed by a business, he's now teaching students about business and government.
Yesterday (Tuesday) he stepped into his new role as a full-time professor at Dordt College in Sioux Center. It's a move the 48-year-old Hull resident and Iowa State Senator feels very good about.
"I really felt that the Lord was calling me to work with kids; we need more Christian people in the arena of government and business," he explained. "I believe in the Reformed view that every square inch of life in the world is controlled by God. Both Dordt and Northwestern colleges are very intentional about teaching the Reformed world view."
It seems Feenstra's life experiences have been moving him in this direction.
He received his bachelor's degree in communications from Dordt College and M.A. in public administration from Iowa State University.
He was the sales manager at The Foreign Candy Co., then the city administrator of Hull seven years. In 2006 he was elected Sioux County Treasurer.
In 2008 he was elected to the Iowa Senate and reelected in 2012. He currently chairs the ways and means committee.
"I'm very thankful to the Vogel family for allowing me to work at ISB for nine years," said Feenstra. "The position in the senate is a part-time job and the job at ISB offered flexibility so I could do both."
The relationship between Feenstra and Dordt College started six years ago when he began teaching a class during the fall semester.
"I discovered that I really love academics and I love reading," he said. "When you're a student you read for a grade but as you get older you do it for the knowledge and the great literature out there.
"I also like working with the students and helping them achieve their goals and aspirations. Their positive responses to the classes I've taught have encouraged me to pursue this occupation."
During those six years as an adjunct professor, Feenstra taught public administration and U.S. political history classes. Last spring, Dordt business professor Art Attema retired and Feenstra was given the opportunity to teach full-time.
His schedule includes five classes in the fall semester, one during the spring and two in summer. This arrangement works well with his responsibilities in Des Moines with the Iowa Legislature, which meets from January through the end of April.
Preparing for fall classes will consume Feenstra's time until the fall semester begins Aug. 29.
"Dordt requires all new teachers to go through a training process and I'm focusing on learning to teach," explained. "Even though I've taught a few classes there's still a lot of information to absorb. Preparing a good interactive class takes a lot of time but I enjoy it."
This year he'll also begin working on his PhD.
He might see some very familiar faces in some of those classes. Feenstra and his wife, Lynette, have four children. Two of them are students at Dordt — Taylor will be a senior and Erika a freshman.
"I hope it's a good experience for both sides," Feenstra laughed. "But my family has been very supportive."
The couple's other children include Dawson, who will be a sophomore at Western Christian High School, and Savannah, who is entering fifth grade at Hull Christian.
Lynette teaches kindergarten at Hull Christian.
Feenstra likes bringing his experiences from the worlds of business and politics into the classroom and he's hoping to use college research to help develop good policy for government.
"Students are interested in the political views on topics such as water quality and planning," he explained. "How do different views affect businesses and homeowners? I hope I can encourage them to be a positive influence in business and government."