Emery Eklund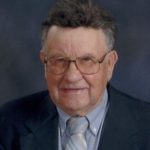 89
Miltonvale, Kansas
April 25, 2019
Emery Ray Eklund, 89, of Miltonvale, Kansas, passed away April 25, 2019.
Memorial services will be Friday, May 3, at F.C. Hill Memorial Wesleyan Church in Miltonvale. 
Emery was born at home near Lamar, Kansas, Oct. 14, 1929, to Emery and Cora (Rothfuss) Eklund. He married Juanita (Toni) White of Abilene, Kansas, Sept. 2, 1961. He eventually went to farming full-time, retiring in 1990. 
Survivors include his children, Sherry (John) Kooiker of Hull,  Iowa, Steve (Teresa) White of Portland, Michigan, Greg (Cathy) White of Clay Center, Kansas and Mark (Suzy) Eklund of Raytown, Missouri; a sister; a brother; 19 grandchildren and 36 great-grandchildren. 
He was preceded in death by his parents; his wife; brothers-in-law; granddaughter and great-grandson.