Dawn Anderson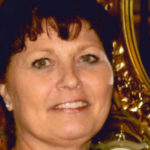 56
Rock Valley, Iowa
August 10, 2019
Dawn Anderson, 56, of Rock Valley, Iowa, passed away Saturday, Aug. 10, 2019, at Hegg Health Center, Rock Valley, after a battle with cancer.
Funeral service was Wednesday, Aug. 14, at Grace Community Church, Rock Valley, with interment in Grace Hill Cemetery, Hawarden, Iowa.
Dawn LeAnne Miller was born Jan. 23, 1963, in Hawarden, the daughter of Peter and Bonnie Miller. After high school, she earned a bachelor of science degree in nursing from Briar Cliff College, Sioux City, Iowa. She worked as a registered nurse at Hawarden Community Hospital and was most recently director of nursing at Hegg Health Center in Rock Valley.
On Feb. 14, 2001, she married Linden Anderson. They made their home in Hawarden 10 years before moving to Florida. They lived in Sioux Falls, South Dakota, five years and then moved to Hull, Iowa, shortly before Linden passed away in February 2018.
In May 2019, she married John DeBruin. They made their home in Rock Valley.
Survivors include her husband; three children, Joseph (Suzy) Lewison of Sioux Falls, Scott Lewison of Alcester, South Dakota, and David (Kayla) Lewison of Hawarden; six grandchildren; her mother of Hawarden; two sisters, Starla (Frank) Harry of Hawarden and Patricia (Armondo) Hurtado of Sioux Center, Iowa; one brother, Peter (Becky) Miller of Hawarden,  and many nieces and nephews.
She was preceded in death by her father and husband, Linden Anderson.