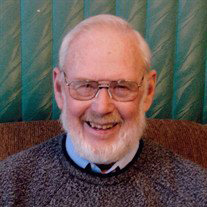 85
Cherokee, Iowa
January 29, 2020
Arlin H. Hinkeldey, 85, of Cherokee, Iowa, died Wednesday, Jan. 29, 2020, at Buena Vista Regional Medical Center in Storm Lake, Iowa.
Funeral services were Saturday, Feb. 1, at St. John Lutheran Church, Hanover, Iowa, with interment in the church cemetery.
Arlin Herman Hinkeldey was born April 10, 1934, in Alta, Iowa, the son of Albert and Lillie (Grieme) Hinkeldey. He attended Hanover Parochial School through eighth grade and graduated from Alta Community High School in 1952. He served in the U.S. army from June 7, 1955-May 15, 1957.
On July 7, 1957, he married Marilyn Radke. He was a lifelong farmer and spent 33 years as a dairy farmer near Alta. In 1998, the couple moved to an acreage near Cherokee.
Survivors include his wife; four children, Doug (Caren) Hinkeldey of Charlotte, North Carolina, Bruce (Peg) Hinkeldey of Alta, Kath (Keith) Sudtelgte of Sioux City, Iowa, and Julie (Kyle) Koster of Boyden, Iowa; 10 grandchildren; four great-grandchildren; sisters-in-law, Lynda Hinkeldey of Hawaii and Bev Hinkeldey of Arnolds Park, Iowa; cousins; extended family and many friends.
He was preceded in death by his parents; brothers, Vernon Hinkeldey and Gaylen Hinkeldey; brothers-in-law, Robert Radke and Delbert McCoy; and sister-in-law, Carol Radke McCoy.