Sarah Boeve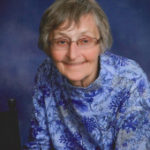 78
Tyler, Minnesota
Oct. 4, 2019
Sarah D. Boeve, 78, of Tyler, Minnesota, passed away Friday, Oct. 4, 2019, at Sunrise Manor in Tyler.
Funeral service was Wednesday, Oct. 9, at Allance Church, Tyler, with interment in Hope Cemetery, Tyler.
Sarah Waldner was born Feb. 9, 1941, in Bon Homme County, South Dakota, to David and Suzanna Waldner. She grew up in Platte, South Dakota, and moved to Sioux Falls, South Dakota, following her education. 
On March 26, 1965, she married Ervin Boeve. They moved to Hull, Iowa, and farmed on the Boeve family farm 11 years. In 1978, the family moved to Tyler. She worked various jobs, including as a school cook for the Tyler area school and finally at Heartland Foods. Her husband passed away Oct. 25, 2009. She eventually moved to Sunrise Manor in Tyler. 
Survivors include five children, Wes (Renee) Boeve of Ruthton, Minnesota, Brenda Boeve of Lake Hendricks, South Dakota, Dale Boeve of Tyler, Karen (Dan) Blanchette of Tyler and Dean Boeve of Tyler; 10 grandchildren 12 great-grandchildren; four brothers Joe (Katie) Waldner, Jonathan (Susie) Waldner, Eli (Katie) Waldner and Josh (Eva) Waldner; brother-in-law, Ben Wurtz; in-laws, nieces and nephews; 
She was preceded in death by her husband, her parents, four sisters and four brothers.