Lucille Miedema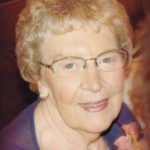 87
Hospers, Iowa
Oct. 4, 2019
Lucille Miedema, 87, of Hospers, Iowa, passed away Friday, Oct. 4, 2019, at Fellowship Village in Inwood, Iowa. 
Memorial service will be Wednesday, Oct. 9, at 11 a.m. at First Christian Reformed Church, Hospers, with interment in Hospers Cemetery. There will be a prayer service Wednesday at 10 a.m. at Oolman Funeral Home in Hospers. 
Lucille Gertrude Visser was born July 9, 1932, in Colton, South Dakota, the daughter of Wiebren and Adrianna (Burgers) Visser. She was raised in Colton where she graduated from high school. She moved to Le Mars, Iowa, where she was employed at the Cap Factory, which later became K-Products. 
On Dec. 28, 1956, she married Edward Miedema. They made their home in Grand Rapids, Michigan, and returned to northwest Iowa in 1958. They lived in Sheldon, Iowa, a few years but spent the majority of their married life in Hospers where she helped with the bookkeeping for their trucking business. In 2014, she became a resident of Fieldcrest Assisted Living in Sheldon and in 2016, she moved to Fellowship Village in Inwood. 
Survivors include her children, Sheryl (John) Slegars of Alton, Iowa, Larry (Karen) Miedema of Sioux Center, Iowa, Edward (Marnee) Miedema of Hospers, Vicki (Tim) Lammers of Boyden, Iowa, and Tami (Jason) Johnson of Inwood, Iowa; 17 grandchildren; six great-grandchildren; two sisters, Bernice Wrage of Dell Rapids, South Dakota, and Ethel (Gerald) Vander Vliet of Colton; two brothers-in-law, Andrew (Joan) Miedema of Orange City, Iowa, and Nelvin (Sharol) Miedema of Sheldon; and two sisters-in-law, Sharlene Miedema of Edgerton, Minnesota, and Mary Miedema of Hull. 
She was preceded in death by her parents; her husband; eight brothers and sisters, Nellie (Archie) Waswick, Henrietta (John) Roetman, Winnie VIsser, Anton (Shirley) Visser, Walt (Marie) Visser, Wilhelmina (Hjalmer) Wickre, Audrey (Joe) Wold, Arlene (Charles) Hardy; a sister-in-law, Berdena (Kenneth) Roos, and two brothers-in-law, Henry Miedema and Robert Miedema.