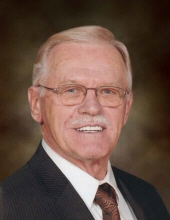 78
Sioux Center, Iowa
October 4, 2021
Harlan Glen Koele, 78, of Sioux Center, Iowa, passed away Monday, Oct. 4, 2021, at his home.
Funeral service was Friday, Oct. 8, at Central Reformed Church, Sioux Center, with interment at a later date.
Harlan Glen was born Dec. 13, 1942, in Hull, Iowa, to Henry and Minnie (Post) Koele. He grew up in Hull where he attended the public school. Following graduation from high school, he started working for Hull Creamery, where he met his future wife, Jurleen Cae Van Der Zwaag.
On Feb. 7, 1964, he married Jurleen Van Der Zwaag. They lived in Sioux Center where he worked for the city's maintenance department. In 1966 they moved to Le Mars where he worked for Well's Blue Bunny until accepting a position in sales for Harker's Distribution. He remained at Harker's over 21 years, retiring as the vice-president of marketing and sales in 1988. They also lived in Luverne, Minnesota. When he retired, they moved to Lake Miltona, near Alexandria, Minnesota. They also enjoyed many winters at their home in Florida. In 2013, they settled in Sioux Center.
Survivors include his wife; two children, Cristi (Craig) Bauerly of Le Mars and Chad (Peggy) Koele of Baltimore, Maryland; five grandchildren; two great-grandchildren; six siblings, Joy Crew, Tylene (Ron) Egdorf, Milt (Patty) Koele, Donna(Virg) Van Ommeren, Twila (Dan) Van Donge and Brad (Gloria) Koele, and a brother-in-law, Lorin (Marilyn) Schafer.
He was preceded in death by his parents, an infant son, a sister, Ruth Schafer, and a brother-in-law, Ron Crew.