Bradley Golbuff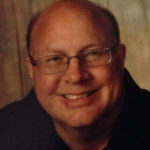 59
Boyden, Iowa,
Aug. 9, 2019
Bradley D. Golbuff, 59, of Boyden, Iowa, died Friday, Aug. 9, 2019, at his residence. 
Prayer service was Monday, Aug. 12, at Porter Funeral Home, Rock Valley, Iowa, with interment in Crystal Township Cemetery, Crystal Lake, Iowa. 
Bradley Dean Golbuff was born Feb. 25, 1960 at Des Moines, Iowa, the son of Gary and Sharon (Larson) Golbuff. He graduated from Emmetsburg High School. After high school he moved to Rock Valley and lived under the care of Hope Haven. He lived near Boyden the last couple years. 
Survivors include his brothers, Tim (Kimberly) Golbuff of Edmond, Oklahoma, and Dan (Mai) Golbuff of Polk City, Iowa; and niece and nephews.
He was preceded in death by his parents.