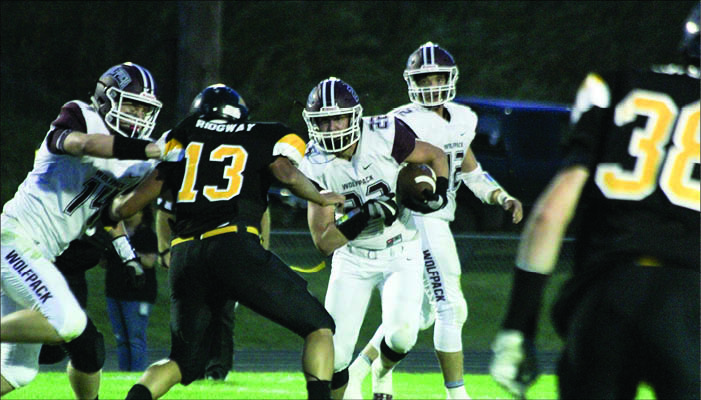 Western Christian0-0-19-019

Hinton0-10-0-616
HINTON-The matchup between Class 1A fifth-ranked Western Christian and Hinton, which has been receiving votes in the Associated Press polls, had big implications on who might make the state playoffs down the road in Class 1A.

Despite the Wolpfack not having their starting quarterback and backup quarterback for this game, both teams ended up playing with urgency but Western Christian held off the Blackhawks for a 19-16 Class 1A District 1 football victory Friday, Sept. 22.

Starting quarterback for the Wolfpack, Carter Broek, continues to be out due to a back injury and backup quarterback, Caleb Harmsen, was out due to a concussion suffered in last week's win over Emmetsburg. Therefore Western Christian went with a bit of a "wildcat" offense as Ben Granstra, who is normally the Wolfpack running back, took snaps at quarterback.

Neither team was able to find the end zone in the first 10 minutes of game action due to long drives that ended in a punt or a failed fourth-down attempt. But Western Christian was able to drive the ball inside the Hinton red zone just before the end of the first quarter. Unfortunately, the drive stalled on an interception and the first quarter went scoreless.

The Blackhawks, in turn, drove the ball the other way to start the second period and scored the first points of the game on a 26-yard field goal by Braden Vonk for a 3-0 Hinton lead with 6:59 to go until halftime.

Following another drive that stalled on downs for Western Christian the Blackhawks went on another long drive and this time found paydirt on a quarterback scramble that ended up in a 58-yard touchdown run. The point after made the score 10-0 at halftime.

"Offensively, we didn't have a big playbook for tonight with Ben Granstra playing quarterback. We did a great job in the first half moving the ball. We just couldn't finish drives," said Wolfpack coach Travis Kooima.

The Blackhawks had the ball to start the second half, but could not score and gave the ball to Western Christian with just over seven minutes left in the third quarter. This time the Wolfpack was able to drive the ball and finish with a 7-yard touchdown run by Granstra. Kobi Baccam's kick made the score 10-7 with 5:54 left in the third frame.

Western Christian then forced three fumbles on defense and the Wolfpack offense turned two of those giveaways into touchdowns. The first was on a 10-yard touchdown run by Granstra and the second on a 27-yard pass from Granstra to Carter Kooi. Baccam made one of the two extra points to give Western Christian a 19-10 lead going into the final 12 minutes of play.

After the ensuing kickoff, the Blackhawks stayed with their triple-option offense and drove the length of the field before punching it into the end zone on a 15-yard run. The Wolfpack blocked the extra point to keep it a 3-point game and the Western Christian defense made it stand as the final score.

"Defensively, we had a great game. We gave up a few big plays that led to their scoring drives, but overall I loved our effort in the second half and thought we really did a good job of slowing down their running game in the second half," Kooima said.

Kooima also praised his offense for taking advantage of the turnovers.

"The second half we took advantage of a short field and a few times made some big plays to take the lead," he said. "This was a great high school football game that had a ton of momentum swings. It was a battle of two hard-nosed teams and we found ways to make plays in the second half. We survived a great effort from Hinton and we are just happy to come away with a big district win."

The Wolfpack will now turn their attention to Okoboji for their next game at home. The Pioneers fell to Emmetsburg 41-7, but coach Kooima said his team can not look past the Pioneers at all.

"Next week we have a home game versus an Okoboji team that is improving every week. We need to put together a great game plan and get ready for another tough district battle," Kooima said.

Team statistics
Rushing:Western Christian 43 attempts for 158 yards and two touchdowns, Hinton 48 attempts for 216 yards and two touchdowns

Passing:Western Christian 6-for-12 for 91 yards, one touchdown and one interception; Hinton 6-for-9 for 44 yards, no touchdowns and no interceptions

First downs:Western Christian 14, Hinton 18

Fumbles/Lost:Western Christian 1/0, Hinton 3/3

Penalties:Western Christian 7 for 55 yards, Hinton one for 10 yards

Punting:Western Christian three for 66 yards, Hinton three for 102 yards

Kickoffs:Western Christian none recorded, Hinton four for 38 yards

Individual statistics
Rushing:Ben Granstra 21 attempts for 91 yards and two touchdowns, Cole Habben 17 attempts for 56 yards, Carter Wibben two attempts for 8 yards

Receiving:Carter Kooi five catches for 89 yards and one touchdown

Kicking:Kobi Baccam 1-for-2 on extra points

Punt return:Cole Habben two for 42 yards

Kickoff return:Travis Solsma one for 23 yards, Cole Habben one for seven yards, Bryce Van Dyken one for eight yards, Josh Ver Burg one for no yards

Individual defense:Ben Granstra four solos, six assists; Carter Wibben one solo, five assists; Micah Uittenbogaard seven solos, seven assists and one fumble recovery; Bryce Van Dyken six assists; Austin Haak two solos, four assists, two tackles for loss; Brady Covey one fumble recovery; The other individual fumble recovery was not recorded.